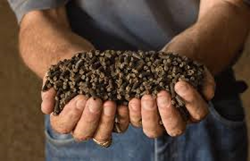 Waste into Gold & More Profit for Poultry Producers
Houston, Texas (PRWEB) August 26, 2015
The South African poultry industry is working to recover the market from imported poultry products, and they are looking for every cost advantage.
Turf Feeding Systems (TFS), a Texas company, has developed a processing system that converts waste poultry manure into the world's best organic fertilizer. It is like the dream of the alchemists to convert waste into gold, nutrient rich organic fertilizer that can be sold or leveraged to lower feed grain costs.
TFS formed a partnership this year with Pedro Pereira, the president and founder of SA Biological Products (Pty) Ltd, a South African company, to offer SA poultry producers a processing fertilizer facility to produce the world's best Amino+ TM organic fertilizer. The special Amino+ fertilizer contains amino acids, enzymes and probiotic inoculants to build the soil health and increase crop production as well as reducing water use, fertilizer and chemicals.
Pedro Pereira states, "The SA economy is at a difficult time and poultry producers are interested in ways to reduce the cost of feed grain, which is the largest cost to produce a chicken and/or an egg. I have presented this to several parties and they are keenly interested after we show them numbers."
Chaplinsky states, "The payoff for the facility is less than two years and the ROI will generate very surprising numbers; but the real value for the poultry farm is leverage to reduce feed grain costs."
Pereira's background and expertise is biologicals for soils, plants and disease prevention, and he will add his special biologicals to the fertilizer to inoculate the soil with probiotic beneficial biology. This will create the best organic fertilizer in Africa, without freight or duty.
Pereira says, "We are planning to have our first fertilizer plant up and running within the next 12 months."
Chaplinsky has five other fertilizer facilities planned with partners in the Middle East and Turkey. He says, "The poultry industry grows millions of chickens in Africa and the Middle East and produces millions of tons of waste manure that can be converted into valuable organic fertilizer. We have created a processing system for any poultry farm to convert waste into gold."
Bio:
Michael Chaplinsky – President / Founder Turf Feeding Systems
Turf Feeding Systems - Houston Texas – USA - The world leader in packaged fertigation systems (fertilizer injection into irrigation) for golf, sports fields, landscapes, resorts and agriculture.
Mr. Chaplinsky has worked for over 28 years implementing water efficiency and sustainability into all types of irrigated projects around the world. He speaks at many conferences and lectures on sustainable soils, landscapes, golf and agriculture.