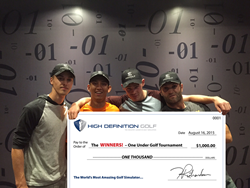 Vancouver, British Columbia, Canada (PRWEB) August 27, 2015
One Under Urban Golf Club is pleased to announce it's tournament winners for their High Definition Golf™ sponsored Tournament.
"High Definition Golf offered us an incredible opportunity to draw customers to our facility by sponsoring our very first golf tournament," says Jay Young, owner of One Under Indoor Golf Club. "The tournament in August was a resounding success! Teams are already clamouring for a second event. The winning crew managed a round of -18 and were throwing plenty of high fives," said Young. Young also noted "Our customers gave rave reviews on our High Definition Golf Simulators, and the fact that the course was so realistic."
Golfers showcased their skills on state-of-the-art High Definition Golf™ simulators playing the famous Pebble Beach course for their chance to win cash prizes including $1000, $500 and $250 for First to Third place.
Congratulations to the One Under winning teams:
1st place: Houston Hair, Alan Tolusso, Myles Debrincat and Richard Moul
2nd place: Brad Bell, Steve Sharp, Don Guthro and Ben Lim
3rd place: Andrew Dempsey, Evan Davies, Jeff Hunter and Colin Whitney
About One Under
Centrally set in Vancouver's Financial District, One Under is a 5000 square foot urban golf club, eatery, and watering hole. The venue boasts six industry-leading golf simulation bays, crafted cocktail bar, lounge, private party/meeting room and chef inspired Italian pizza menu. One Under provides a fresh approach today and nighttime entertainment and the game of golf itself. For more information on One Under, visit http://www.oneunder.ca.
About High Definition Golf™
High Definition Golf™, pioneered computer vision technology in the virtual golf simulation industry. Spectacular photo-realistic capabilities capture the true beauty of some of the world's most renowned golf courses. For instruction, HD Golf™ offers a fully integrated professional golf instruction studio. HD Golf™ simulators are the simulator of choice for luxury homes, indoor golf centers, golf course clubhouses, recreation centers, luxury hotels & resorts. For more information, visit http://www.HDgolf.com.