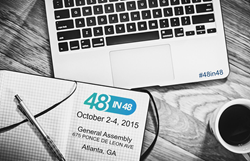 It's an incredible opportunity to support these organizations that work so hard to change lives, right here in Atlanta, BKV's hometown.
Atlanta, GA (PRWEB) August 27, 2015
BKV, a full-service direct and digital marketing agency, has signed on to provide nonprofit marketing expertise to support 48in48 as both a sponsor and source of volunteers. The brainchild of Jeff Hilimire, CEO of Dragon Army and Adam Walker, CEO of Sideways8, this hackathon-like event will provide 48 custom WordPress websites for 48 Atlanta-based nonprofits in no more than 48 hours. Tapping into an army of volunteer designers, developers and copywriters, each nonprofit will have a team dedicated to their specific website creation for the duration of the event. 48in48 will take place at General Assembly in Ponce City Market, October 2–4, 2015.
"Nonprofits are so focused on helping others, they don't have time or funds to help themselves," said Jeff Hilimire. "Imagine how much more good they could do with a great website to help them market themselves better. We hope to change that for 48 nonprofits this fall."
Beyond their custom WordPress website, the 48 selected nonprofit organizations will benefit from personalized training in content strategy development and best practices in using Google Grants (Google AdWords). They'll also get 12 months of free website hosting, a custom blog post and the potential to receive additional marketing budget. Sponsorship dollars will be used after the event for training and to support the needs of the nonprofits to launch their new sites. In all, it's an estimated $25,000 worth of services going to each of the 48 nonprofits.
BKV is not only sponsoring the event, but also providing volunteers and the post-event training.
"BKV is excited to lend a hand to help these nonprofits whose sole purpose is to lend a hand to others," explains Virginia Doty, EVP, Director of Marketing at BKV. "It's an incredible opportunity to support these organizations that work so hard to change lives, right here in Atlanta, BKV's hometown."
As an advertising agency with many well-known national nonprofit clients—including American Red Cross, March of Dimes, Greenpeace and Wounded Warrior Project, BKV has a deep understanding and appreciation for nonprofit work. BKV will be incorporating years of direct marketing know-how and a wide array of nonprofit marketing services to implement best practices not only for design and user experience but also for conversions. Members of the nonprofit team along with other subject matter experts from BKV will be attending the October event, including experienced web designers, developers and copywriters.
However, BKV's efforts have begun well before October 2. Many agency staff members have been helping with the 48in48 planning and preparation for the past two months. Between discussing logistics with the 48in48 team, helping with the nonprofit selection process and spearheading the event's social media promotions, BKV is playing a vital role in ensuring the success of the inaugural event.
Volunteers and sponsors are still needed for this event. To learn more, please visit 48in48.org.
About BKV
BKV is an Atlanta based full-service direct and digital advertising agency that specializes in using data-driven strategies that drive business results. BKV's client portfolio includes local, national and global brands. The agency provides digital and traditional media services, including creative design, web development, CRM, paid media (online and offline), SEO, Social Media, Digital PR, Direct Mail, DRTV, Database Management, Analytics and Data Modeling. For more information, visit http://www.bkv.com.
About 48in48
48in48 is a nonprofit built by a team of passionate individuals all working to provide creative services to nonprofits. The event is being piloted in Atlanta with the goal to go national in 2016. Current sponsors include: Dragon Army, Sideways8, 352 Inc., AgencySparks, Arby's, BKV, IBM, Creaxion, DigitasLBi, Fisher Broyles, Friendly Human, General Assembly, Google, Hypepotamus, Mailchimp, Metro Atlanta Chamber of Commerce, Moxie, Peach Dish, Sagepath, Sandbox Digital, and more. With the help of designers, developers, creatives and sponsors, 48 custom websites will be built for 48 nonprofits in 48 hours. For more information on 48in48, to volunteer or sponsor the event, visit http://48in48.org/.