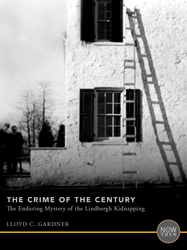 The public that had adored Lindbergh, marveled at his exploits, suffered with him over Charlie's fate, turned around. One columnist observed that the colonel had gone from Public Hero No. 1 to Public Enemy No 1.
Santa Monica, CA (PRWEB) August 27, 2015
Among the many spectacular crimes of the twentieth century—the assassination of President Kennedy, the serial murders of John Wayne Gacy and Ted Bundy, the trial of O. J. Simpson—none was more mysterious and riveting than the 1932 kidnapping and murder of the infant son of Charles A. Lindbergh. Its cast of characters would delight any author of detective novels: the father, an American aviator hero, the first to fly solo over the Atlantic; his lovely wife, the daughter of an ambassador and mother of the first-born son Charlie; an illegal immigrant from Germany charged with the kidnapping; a Bronx schoolteacher designated to carry on ransom negotiations; various underworld characters enlisted to try to find the kidnapped child; a gruff Irish detective dissatisfied with the investigation of the case; a young and aggressive FBI director interested in self-publicity; a prosecutor who may not have believed that one man alone could have done the kidnapping; and a variety of household staff who had peculiar stories to tell.
Assisted by Charles Lindbergh's questionable actions during and after the kidnapping of his son, the case drew national attention, becoming a focal point of conspiracy theorists and shifting the public's perception of the famous aviator.
In the end, as a captivated nation followed the details, a sensational trial and conviction settled the affair—but to almost no one's satisfaction. Join Lloyd Gardner as he tells the story of the Lindbergh kidnapping and why the case of young Charlie's disappearance remains the Crime of the Century.
Lloyd Gardner is the Charles and Mary Beard Emeritus Professor of History at Rutgers University and author of a dozen highly regarded books in American history, including The Long Road to Baghdad, Pay Any Price: Lyndon Johnson and the Wars for Vietnam, Spheres of Influence, Approaching Vietnam, and Architects of Illusion. His book The Case That Never Dies is an extended examination of the Lindbergh case.
Now and Then Reader, an e-book publisher, will release The Crime of the Century for download on Amazon® Kindle and iTunes®.
This new digital title headlines a growing list of short nonfiction books published by Now and Then Reader, a publishing house co-founded by industry veteran Ivan R. Dee. Now and Then titles typically range from 5,000 to 25,000 words and focus on historical writings including original works, excerpts, and reprints. Now and Then offers free and paid content on its website http://www.nowandthenreader.com.
For a review copy of The Crime of the Century, or to schedule an interview with Lloyd Gardner, please contact Matt Hundhammer at Matt.Hundhammer(at)nowandthenreader(dot)com or 801-438-8535.