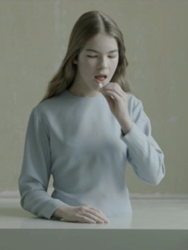 Christian themes and symbols are used for reflection, criticism, and for creating new associations in content and aesthetics in secular life.
Düsseldorf, Germany (PRWEB) August 25, 2015
Christian iconography is omnipresent in our collective memory, and many contemporary artists incorporate elements of it in their work. However, many don't do so in a religious context. The new exhibit "The Problem of God" at K21 Ständehaus in Düsseldorf (September 26, 2015 – January 24, 2016) explores contemporary artworks of the last 25 years, in which Christian themes and symbols are used for reflection, criticism, and for creating new associations in content and aesthetics in secular life.
"The Problem of God" is not a show of sacred art or even about religion in general, but themes include fundamental questions of human life and existence, philosophical and spiritual challenges, and explorations – ranging from critical to humorous - of different aspects of religion and faith.
The selection of works focuses on art of the last 25 years, and some represent essential movements in art history from 1950 t0 1980 and serve as important reference points for contemporary art. Included are paintings, drawings, sculptures, photographs, video and film, as well as art installations, some especially created for this exhibit.
Artists included:
Georges Adéagbo, Eija-Liisa Ahtila, Francis Alÿs, Francis Bacon, Michaël Borremans, Pavel Büchler, Andrea Büttner, Flavio de Carvalho, Paul Chan, Berlinde De Bruyckere, Tacita Dean, Andrew Esiebo, Harun Farocki, Katharina Fritsch, Douglas Gordon, Gary Hill, Emma Kay, Hubert Kiecol, Katarzyna Kozyra, Little Warsaw, Thomas Locher, Kris Martin, Aernout Mik, Boris Mikhailov, Santu Mofokeng, Hermann Nitsch, Robert Rauschenberg, Ad Reinhardt, Rosemberg Sandoval, James Turrell, Bill Viola, Paloma Varga Weisz, Danh Võ and Aby Warburg.
For more information on the exhibit and the accompanying program, please visit: http://www.kunstsammlung.de.
Düsseldorf's tourism office is offering hotel and city specials for stays in 2015. The package, called "Düsseldorf à la Card," can be booked right from the tourism office's website at https://www.duesseldorf-tourismus.de/en/accommodation/hotel-packages/duesseldorf-a-la-card/. Prices start at €49 per night per person based on double-occupancy for a 2-3-star hotel in the city center and at €95 per person for a 4-star hotel. The package includes breakfast, one DüsseldorfCard (free public transportation within city limits plus 30 free or reduced admissions to city attractions), and a city information package. Please check the website for current information.
# # #
Düsseldorf Marketing & Tourism GmbH is the visitors and convention bureau of the city of Düsseldorf. Its responsibilities include tourism and city marketing, as well as conference and meeting marketing, hotel reservation services, fairs and convention services, city event ticket sales and advance ticket reservations. For more information, visit http://www.visitduesseldorf.de.
Düsseldorf Airport, Germany's Next Generation HubTM, offers several non-stop flights from US cities (Atlanta, Chicago, Ft. Myers, Los Angeles, Miami, New York, Newark), as well as convenient connections to many European cities. For more information about the airport, visit http://www.dus.com.