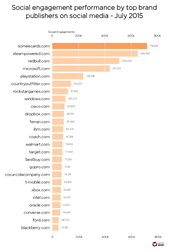 "Our brand publisher rankings illuminate which brands are most intelligently tapping into what matters to their audiences online and creating content to serve these interests" - Will Bancroft, Marketing Director - NewsWhip
New York, NY (PRWEB) August 26, 2015
Major brands, such as Microsoft, Playstation and Cisco, are also featured in NewsWhip's latest rankings, which for the second month in a row is dominated by electronics and tech brands, effectively reaching their Millennial audiences on social media.
Notable trends and insights from the rankings include:

Microsoft rising from 8th to 4th
Windows and Cisco the fastest rising new entrants - ranking at 8th and 9th
Fashion brand, Coach at No1 for engagement per article
Coach also recording double the engagement per article of any other brand
SomeEcards creating a viral content hit with an article about a poem written on the wall in a London bar
Find the full rankings and commentary on the NewsWhip blog.
NewsWhip's Marketing Director, Will Bancroft, had this to say about the July rankings:
"Our brand publisher rankings illuminate which brands are most effectively acting like leading media publishers, intelligently tapping into what matters to their audiences online and creating content to serve these interests. The dominance of Facebook, as a location to generate this engagement, is still clear to see and the content tactics used by these biggest brands offers key insights for marketers."
About NewsWhip:
Based in Dublin, Ireland, and New York, NewsWhip is a social media analytics platform, powering a suite of trending analytics products used by journalists and editors, marketers, and communications and PR professionals.
NewsWhip's best-known product, Spike, is a dashboard for analyzing real-time social velocity and trajectory of content and content marketing themes. Spike predicts 79% of future viral news and stories and is used by clients such as: BBC, BuzzFeed, DigitasLBi, Edelman, Fleishman Hillard, Huffington Post, Intel, OMD, Mastercard, Wells Fargo and Yahoo!.