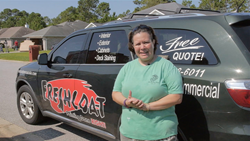 Pensacola, FL (PRWEB) August 25, 2015
Local veteran Jamario Ridley understands the importance service and giving back. That's why he's excited to have painted the home of a fellow Marine, Karen Rudolph, as part of Fresh Coat's Paint it Forward® program. Jamario owns Fresh Coat Painters of Pensacola with business partner Larry Griffin.
Fresh Coat Painters offers interior and exterior painting, wood staining and refinishing, wallpaper removal and many other services for nearly every protective coating application. Fresh Coat Painters of Pensacola serves Pensacola, Gulf Breeze, Milton and Pace in Florida as well as Baldwin County in Alabama and the surrounding areas.
Karen, a medically disabled US Marine Corps veteran, was nominated for the free whole house interior painting by the local American Legion. Karen served in the US Marine Corps for more than 13 years, including five deployments, three of which were combat deployments. She was discharged in 2013 for medical reasons and now spends her time as an active volunteer supporting her brothers and sisters in arms. Karen started the Marine Corps Women Association chapter in Pensacola, volunteers with WAVE and the USO, and is a member of the American Legion and Veterans of Foreign Wars organizations.
"I'm so happy Fresh Coat selected me to receive the home painting and that they offer this kind of program nationwide," Karen said. "I've wanted to paint my house for a while, but it was cost-prohibitive. My home is just the builders' white – it's like base housing – so I was looking forward to adding some color and making it more personal."
Fresh Coat Painters of Pensacola was launched in 2013. Before owning the business, Jamario served 12 years in the military. In fact, he and Karen served at the same time, they both worked in avionics and they often crossed paths during deployments. The legion nominated Karen for her service and commitment to others.
"Karen – and her husband Tom – were selected for the home painting because we wanted to take this opportunity to honor one of our disabled veterans who wouldn't be able paint their own home or pay someone else to do the work. The Rudolphs were nominated and we thought they were the best choice," Commander John Edens said. "Our post and all our members are quite impressed with Fresh Coat's ability and drive to help local veterans. Not everyone is willing to take the time, money and effort to do something like this."
Paint It Forward was inspired by Eric Ascencio, previous co-owner of a Fresh Coat Painters franchise in Houston, Texas. Eric had made it his mission to be an inspiration for other cancer patients and to give back to those in his community, leaving behind a legacy when he recently lost his battle with the disease. Jamario said Karen's project was quoted with 30 gallons of paint and 95 man hours, which would normally cost about $4,000. Fresh Coat will be providing the expertise and man-hours and the paint for the project is being donated by Fresh Coat Painter's national paint partner, Sherwin-Williams.
Although the project is part of the national Paint it Forward program, Jamario said giving back was always something he'd planned to do as a small business owner.
"If you're going to be a local business and you're going to thrive on the support of the people in your area, I think you should be giving back. I want to show people that Fresh Coat is not just here to take your money and do a job. Fresh Coat is part of this community like everyone else and we all rise and fall together," Jamario said. "Paint it Forward is a great program and it gives us the opportunity to make people happy. I hope more franchises across the country get involved."
"I also hope that seeing what I'm doing will inspire other local small businesses to work to make a difference," he added.
For additional information about Fresh Coat Painters of Pensacola or to schedule a free quote, call 850-418-6011, email JRidley(at)FreshCoatPainters(dot)com or visit http://www.FreshCoatPensacola.com.
About Fresh Coat Painters
With more than 120 locations nationwide, Fresh Coat Painters brings quality customer service, top-notch painting products, professionalism and affordable pricing to the residential and commercial painting industry. They use quality, environmentally safe materials and offer a 24/7 customer service center, online scheduling, in-home color design consultations, and detailed quotes. All painters are bonded and insured employees. For more information, visit http://www.FreshCoatPainters.com, call 1-855-FRESH-COAT or visit us on Facebook.
The company was founded in 2004 as part of Strategic Franchising Systems. In the last year, Fresh Coat has been included in the Bond's Top 100 and named to Entrepreneur Magazine's Franchise 500 list. Fresh Coat is also part of the International Franchise Association, the Small Business Association's Franchise Registry, VetFran and Minority Fran.