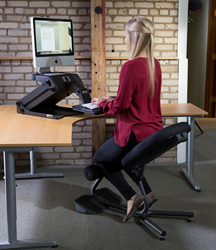 The Made in the USA label sets HealthPostures apart from the competition.
(PRWEB) August 27, 2015
HealthPostures, a Midwest headquartered expert ergonomics firm, will exhibit at the National Safety Council Congress and Expo in Atlanta, Georgia. The National Safety Council is a nonprofit organization that has been working to prevent injuries and deaths at American homes and workplaces for more than 100 years. The conference takes place September 26 through October 2. More than 14,000 professionals are expected to attend.
Among the HealthPostures' inventions on exhibition at the conference are the TaskMate, the Stance Move and the Surface TaskMate. Of these products, the TaskMate Executive, the TaskMate Go and the TaskMate EZ Surface are leading office solutions. The Surface TaskMate, TaskMate EZ Clamp and the Stance Move are built for the industrial market.
Benefits associated with these solutions are increased mobility, less strain on the musculoskeletal system and more worker productivity. Because sitting for extended periods has been shown to lead to declining health, including heart problems, colon cancer, obesity and back and neck pain, HealthPostures products' lasting benefits may not yet be fully known.
HealthPostures customers appreciate many things about these sit-stand products. "The ability to lower the keyboard and mouse below the work surface meets our ergonomic specifications while the durable design has held up well in all environments." Lastly, customers say that "the Made in the USA label sets HealthPostures apart from the competition."
Other companies registered to attend the National Safety Council Congress and Expo include 360 Training, Air Control Industries, Capital Safety, Eagle Manufacturing Company, Honeywell and Pulp Stream. Key sponsors include Grainger, Safe Start, 3M, Workrite and Georgia Pacific.
About HealthPostures
HealthPostures LLC (https://healthpostures.com) specializes in office and industrial safety products. Primary focus of the company is optimum worker health. HealthPostures has been designing and manufacturing mobility and workplace safety products since 1996. Keeping to its initial mission, HealthPostures continues to "strive to provide quality products that will help transform your sedentary life so you have a healthy way to work." Sit-to-stand solutions that HealthPostures designs and manufactures include dual monitor sit-stand work stations, adjustable mouse stands, dual monitor arm accessories, Stance move seat extensions, industrial surface Taskmates and Stance Move chairs.
Contact:
HealthPostures LLC
14310 Ewing Avenue South, Suite 100
Burnsville, MN 55306
800-277-1841
https://healthpostures.com
Resources:
https://www.washingtonpost.com/apps/g/page/national/the-health-hazards-of-sitting/750/