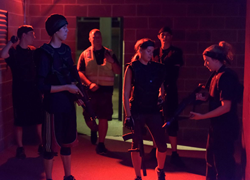 With enough sponsors a tournament could potentially be held with zero out of pocket costs
Whitewater, Wisconsin (PRWEB) August 27, 2015
iCOMBAT Madison is one of many iCOMBAT driven laser tag businesses seeing growth in attendance with each tournament, both in spectators and players. iCOMBAT Madison will be holding their first ever live streaming laser tag tournament on November 6th, 2015. "This tournament model is a great way to expose our business to the community." said Rick Jensen of iCOMBAT Madison. " Once the community learns there will be a broadcast from the tournament, curiosity is multiplied and we start to see customers who might never have reached out to see what Laser Tag is all about."
iCOMBAT, the world leader in realistic laser tag equipment manufacturing, continues to dominate the exploding laser tag tournament game space. Using the iCOMBAT equipment modeled after the United States issued M4, laser tag fields around the world are using the Barracks software to hold their own tournaments complete with rankings and statistics not seen anywhere else.
iCOMBAT's Barracks software allows laser tag businesses to provide customers with a variety of games beyond the traditional paintball capture the flag and elimination scenarios. This flexibility keeps the game fresh and draws players back to play between tournaments to familiarize themselves with the unique strategies required. iCOMBAT Madison is not alone in seeking repeat customers in the competitive field of laser tag.
Laser Tag Tournaments have been on the rise as marketing budgets are being stressed. When the tournament attendances keep growing, the tournament model starts to gain momentum and start looking like other established sports. "With enough sponsors," remarked Ocie Mathenia of iCOMBAT, "a tournament could potentially be held with zero out of pocket costs. With iCOMBAT's cloud based solution a tournament can be held anywhere without limitations."