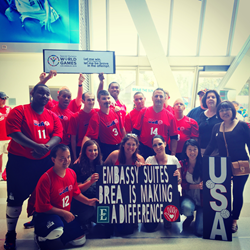 We arrived around 9:00 am with posters in hand, ready to not only represent America, but to cheer on all of the athletes. It was so inspiring to see that they had worked so hard for a goal and that we were able to witness them achieving it
Brea, CA (PRWEB) August 26, 2015
On Thursday, July 30, 2015 Embassy Suites by Hilton Brea – North Orange County sent a team to participate in the Fans In The Stands program at the Special Olympic World Games held in Los Angeles, California. The Special Olympics World Games website, "Celebrating begins, not when the athletes cross the finish line or score the winning goal but when the fans erupt with excitement. Having supportive fans creates an atmosphere [where] the athletes crave to excel in competition". The games were the largest sports and humanitarian event of the year, composed of 6,500 athletes and 2,000 coaches representing 165 countries, along with 30,000 volunteers and approximately 500,000 spectators.
Embassy Suites hotels encourage community involvement through the Make A Difference Committee; a group of individuals who come together to volunteer for the greater good of the hotel and of surrounding community. Their service statement reads, "Gracious, engaging and caring...making a difference in the lives of others - in ways both big and small." When the opportunity presented itself to participate in this worldwide event, Embassy Suites Brea knew that they needed to get involved immediately.
A team was created and the ball was in motion to choose which sport to go see on which day. The choice: volleyball at UCLA. "We arrived around 9:00 am with posters in hand, ready to not only represent America, but to cheer on all of the athletes. It was so inspiring to see that they had worked so hard for a goal and that we were able to witness them achieving it," said Melissa Fackler, the president of the Embassy Suites Brea's Make A Difference Committee. Paulley Pavilion was set up to showcase six games at a time, meaning fans had a lot of responsibility to pay attention to multiple games and show their support. Teams that were scheduled to play later were also in the stands cheering, showing a sense of sportsmanship that isn't always seen in other competitions. Director of Human Resources and MAD Committee member Lauren Degrassi excitedly stated that, "after the games we were able to meet some of the players and to me that was the most invigorating part. The athletes were so excited to meet us, introduce themselves and thank us for supporting them; it was very humbling."
About Embassy Suites by Hilton Brea - North Orange County
Embassy Suites by Hilton Brea - North Orange County, one of Hilton Worldwide's twelve market-leading brands, is dedicated to delivering what matters most to travelers. The full service, upscale brand offers two-room suites, free made-to-order breakfast and a nightly two-hour reception with complimentary drinks and snacks. Both leisure and business travelers looking for a relaxed, yet sophisticated experience will feel right at home with brand-standard amenities like inviting atriums and complimentary 24-hour business and fitness centers. Embassy Suites by Hilton has over 220 hotels with more than 40 in the pipeline. Hilton HHonors members who book directly through preferred Hilton channels have access to benefits including free Wi-Fi, as well as digital amenities that are available exclusively through the industry-leading Hilton HHonors app, where HHonors members can check-in and choose their room. For more information, visit http://www.wcghotels.com/brea-orange-county-hotel/, and connect with Embassy Suites by Hilton at news.embassysuites.com, http://www.facebook.com/embassysuiteshotels and http://www.twitter.com/EmbassySuitesBrea.
*Service of alcohol subject to state and local laws. Must be of legal drinking age.
Or contact: Lisa Kotlar at Lisa.Kotlar(at)hilton(dot)com