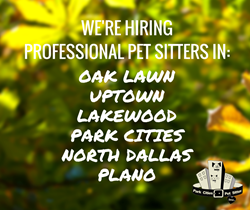 "If you love animals, live near the territories I have openings in, and have a consistent window of availability, then we want to talk to you about a career as a Professional Pet Sitter." Joette White, President of Park Cities Pet Sitter
Dallas, Texas (PRWEB) August 25, 2015
Park Cities Pet Sitter has been in existence since 1992, and has regularly hired staff to care for their clients' animals in the different Dallas territories the company services. Despite the longevity of the company and industry, many job seekers they have evaluated over the years do not truly understand what it means to be a "Professional Pet Sitter," which can often make finding the right candidate for the company a bit harder. Educating the job-seeking public on the potential windows of time that a Professional Pet Sitter must be available to work, on the fact that they work most holidays since that is when clients tend to leave town, and on the importance of paying attention to a lot of detailed information are just some of the keys to evaluating who is right for the job of Professional Pet Sitter.
Joette White, President of Park Cities Pet Sitter, currently has Professional Pet Sitter openings in a handful of her territories: the Oak Lawn/Uptown area, the Park Cities, Lakewood and North Dallas/Plano area. For her business purposes, this includes zip codes 75001, 75024, 75075, 75093, 75204, 75205, 75206, 75207, 75209, 75214, 75215, 75218, 75219, 75223, 75225, 75235, 75240, 75248, 75252, 75254 and 75287. Ms. White said that she would ideally like to see candidates that live in those areas or just adjacent to them, because that makes traveling to the clients in these territories the most efficient for the staff member. "Our compensation package includes drive time but not actual gas expenses, so minimizing drive time for the employee means more money that goes into their pockets at the end of the day, and that makes them happier," said Ms. White. "In addition, since my company is open 365 days a year and our sitters can be working at all hours of the day, we require availability on a consistent schedule since our clients want consistency in their care givers. We have both part-time and full-time positions, so we understand if someone cannot work 7 days per week at any hours of the day; we simply ask for regular time windows of availability so that it makes scheduling easier and clients know what to expect as to who is coming to their home. It is a formula that has worked well for our numerous happy customers, so we try to find employees that understand the importance of this type of consistency for the client and their pets. If you love animals, live near the territories I have openings in, and have a consistent window of availability, then we want to talk to you about a career as a Professional Pet Sitter."
In addition to servicing clients who leave town for vacation and business travel, Park Cities Pet Sitter also has a large number of daily dog walking clients. These are clients who may physically be in town, but they hire Park Cities Pet Sitter to walk their dogs or administer daily medication to pets on a predetermined schedule because the owners are unable to do so themselves for a variety of reasons. Professional pet sitters often have both "vacation" and daily dog walk clients in their territories. Park Cities Pet Sitter also has openings for Overnight Pet Sitters, those that literally spend the night in a client's home when the client is out of town, establishing a consistent schedule for the pets and providing extra security for the home.
Those interested in applying for a position at Park Cities Pet Sitter should visit their website at http://www.pcpsi.com, and click on the "Join Our Team" tab.
About Park Cities Pet Sitter: Park Cities Pet Sitter, Inc. has served the Dallas area 7 days a week, 365 days a year since 1992. Pet sitting, daily dog walks, pet taxis, overnight sitting, pet supply shopping, litter box cleaning and dog training are all part of the services PCPSI offers. Park Cities Pet Sitter is bonded and insured, and all sitters are employees--not independent contractors. A manager is on-call 24 hours a day to handle any emergencies. Additional information about Park Cities Pet Sitter can be found on their website at http://www.pcpsi.com.