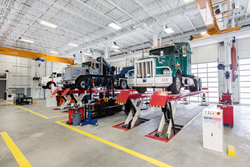 I've used Stertil-Koni for a while and they are very good lifts.
Stevensville, MD (PRWEB) August 26, 2015
Vehicle lift leader Stertil-Koni today announced that Kenworth Trucks, a PACCAR company recognized as one of the leading suppliers of heavy and medium duty trucks worldwide, has selected Stertil-Koni heavy duty vehicle lifting systems for the maintenance facility of the company's new, 129,000 square foot sales and service facility located in Alberta, Canada.
Called Kenworth Leduc, the flagship location has 42 service bays and 45 technicians who can handle up to 100 trucks per day and support a broad customer base, including oilfield, construction and a number of other heavy haulage industries in the Alberta region.
In terms of vehicle servicing at this location, the customer requirements were extensive and exacting. Explained Dave Strachan, Assistant Service Manager at Kenworth Leduc, "When we set out to design and construct this building, everything was going to be premier. The Kenworth Trucks are sold as the world's best trucks and we are dedicated to providing world-class service. I can only do that with the best equipment. That's why we selected Stertil-Koni lifts. I've used Stertil-Koni for a while and they are very good lifts."
Added Strachan, "The Stertil-Koni lifts have excellent design and are very easy to use. The techs love them."
For its facility, the new Kenworth location in Edmonton selected six Stertil-Koni SKYLIFTs and a set of Stertil-Koni EARTHLIFTs.

The SKYLIFT is a superior, ALI/ETL certified heavy duty platform lift with a capacity of 78,000 lbs. that uniquely combines a clear floor concept while optimizing working space due to its vertical lifting design. It has no overhang, crossbeams or columns and for optimal safety employs a mechanical locking system that begins at a mere 3 5/8 inches above floor level.
The Stertil-Koni EARTHLIFT is the industry's first hydraulic "green" mobile column lifting system. It features columns that are made with components that are 98% recyclable and the Active Energy Retrieval System (AERS) allows operators to achieve 35% more lifting cycles at maximum lifting load. Thus, users realize an average of up to 45 or 50 lifting cycles without recharging. In addition, EARTHLIFT uses a closed hydraulic system that contains bio-degradable oil and the batteries are 100% recyclable. This lifting system is also ALI/ETL certified and available with lifting capacities of either 18,500 lbs. or 22,000 lbs., depending on the model selected.
Managing the entire vehicle lift selection and installation process was Westvac Industrial Ltd., a leading Stertil-Koni distributor supporting Western Canada and specializing in heavy vehicle lifting equipment, sewer inspecting and cleaning, hydro excavating and automotive wheel service equipment technology.
As Shane Vermeulen, Sales Manager at Westvac Industrial explained, "Our customers are primarily in industrial fields and include transits, cities, municipalities, towns and dealerships, much like Kenworth Leduc. These customers have to service their heavy duty vehicle fleets on a regular schedule and we are proud to provide them with Stertil-Koni lifts, which in turn enable them to raise their vehicles for maintenance in an extremely safe, efficient and controlled manner."
"In the instance of Kenworth Leduc," he added, "this is a world-class facility that is utilizing Stertil-Koni lifts, installed by Westvac, to help set new standards in heavy duty vehicle lifting."
Concluded Stertil-Koni president, Dr. Jean DellAmore, "We are recognized as the heavy duty vehicle lifting specialists, and, it is extremely rewarding to see how one of our top distributors, such as Westvac, can support a top-tier company, such as Kenworth, in terms of advancing their maintenance operations while ensuring the highest levels of safety and support."
About Stertil-Koni
Stertil-Koni, a brand of the Stertil Group, is the global market leader in heavy duty vehicle lifts – bus lifts and truck lifts– and is the preferred supplier to the world's leading companies in the truck and bus industries. Stertil-Koni's breadth of products meets all ranges of lifting needs and includes mobile lifts, two-post, four-post, in-ground piston lifts, parallelogram lifts, half-scissors and its innovative axle-engaging, in-ground, scissor lift configuration, ECOLIFT. Stertil-Koni is also now installing DIAMOND LIFT across North America, a full rise telescopic piston lift designed to set new standards in precision heavy duty lifting. Stertil-Koni USA is headquartered in Stevensville, Maryland. Stertil-Koni has production facilities in Europe in The Netherlands, and in the USA in Streator, Illinois.