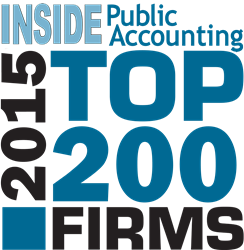 Ranking on the list for the 6th year in a row, we are proud to be considered among this elite group.
Fairfield, NJ (PRWEB) August 26, 2015
Smolin Lupin, a leading financial and accounting services firm, announced today that it has been named one of the largest accounting firms in the nation on the IPA 200 by INSIDE Public Accounting.
"Ranking on the list for the 6th year in a row, we are proud to be considered among this elite group," said Theodore J. Dudek, managing partner, Smolin Lupin. "The expertise provided by the Smolin team in helping business owners protect, grow and monetize their business interests, combined with our ability to remain agile in order to meet the diverse needs of our client base has contributed to the firm's success," he added.
"With more than 500 firms participating in the IPA annual Survey and Analysis of Firms this year, along with many CPA firm associations contributing to the search to identify the IPA 200, this prestigious group joins the IPA 100 as the definitive ranking of the nation's largest public accounting firms," said Kelly Platt, principal of The Platt Group, the publisher of IPA.
The IPA 200 averaged 5.4% top-line growth, and 4.7% growth in the bottom line. For the most recent fiscal year, IPA 200 firms range in size from $15 million to $32.4 million, and from 58 to 235 staff. These firms employ more than 11,600 staff across the nation. This is IPA's 25th annual ranking of the largest accounting firms in the nation.
Smolin Lupin expects to stay on its current growth trajectory as they continue to explore acquisition opportunities in New York—positioning them to more directly cater to the financial services and technology markets.
About Smolin Lupin
Since 1947, Smolin Lupin has dedicated itself to developing long-lasting client relationships. They provide professional financial and accounting services uniquely designed to meet the needs of each and every client. Personal attention and guidance has contributed to the widespread growth and success of this highly respected CPA firm. Smolin's panel of wealth advisors and finance professionals include Certified Public Accountants, Certified Financial Planners, Personal Finance Specialists and Registered Investment Advisors. These individuals have the certification, experience and knowledge to manage wealth in order to allow clients to focus on optimal business growth. Smolin Lupin is an Independent Member of the BDO Alliance USA and is one of the NJBIZ Top 20 Public Accounting Firms in New Jersey.
For more information, visit http://www.smolin.com and http://www.strategicequityadvisorsllp.com, Twitter @SmolinLupin or LinkedIn.