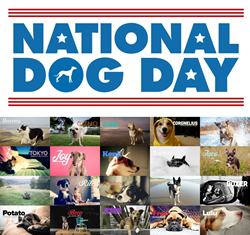 San Francisco, CA (PRWEB) August 26, 2015
Pack invites dog owners to create free homepages for their four-legged friends in honor of National Dog Day 2015.
It's one thing to have an Instagram account for your dog's photos, but it's a whole other phenomenon to show off your dog on Pack, the social network created exclusively for dog lovers.
Already beloved by dog owners worldwide, Pack is a social content platform where people design stylish homepages for their dogs and participate in community "packs" specific to their dog's breed and location. Members can meet other dog owners based on their dog's breed or city and share photos, stories and recommendations with each other.
"At Pack we want to honor the relationship between humans and their dogs, so for National Dog Day we thought it would be fun to showcase all the beautiful homepages people have designed for their dogs," says John Henry Müller, Pack's cofounder and designer.
With more than 80 million dogs in the US alone, and more dogs than kids living in US households, dogs have become family for many Americans. "Pack gives dog owners a real resource where their dogs can be center of attention. It's so much more than a lolcat culture," says Bonnie Diczhazy, Head of Special Projects for the Silicon Valley startup.
Founded by Megan Casey, who co-founded Squidoo, a site which grew to be one of the top 40 most visited sites in the world, Pack is on a mission to connect dog owners worldwide and provide the best social platform for a $60B and growing pets industry. "Dogs help us live happier, healthier, more active lives. We are thrilled that Pack has been so well-received by the dog community."
Pack is live on the web at Packdog.com and available for the iPhone at Packdog.com/app.
For National Dog Day 2015, Pack is inviting dog owners everywhere to honor their best friends and design tribute pages for them at Packdog.com/national-dog-day-2015.
For inquiries please contact Bonnie Diczhazy at hello(at)packdog(dot)com.
For images please see: http://packdog.com/media
###