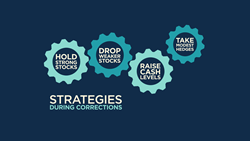 "It's a correction, plain and simple," Mike Frazier continued. "We knew it was coming. It's healthy and necessary. It's never fun."
Walnut Creek, California (PRWEB) August 26, 2015
The CEO of Bedell Frazier Investment Counselling, Mike Frazier, had sage words regarding the recent stock market slide.
"On Monday panic returned to Wall Street! Initially the DOW fell 1,000 points before rallying back, still closing down over 500 points.
After a pummeling last week, China continues to play the villain as it devalued its currency in an attempt to jumpstart its economy. The rest of Asia tumbled in lock step with China which declined another 8% overnight. It's down nearly 40% since its highs in June," said Frazier.
"It's a correction, plain and simple," he continued. "We knew it was coming. It's healthy and necessary. It's never fun."
Frazier, who manages about 1/2 billion in assets from his Walnut Creek headquarters, explained his strategy as follows:
"We were positioned appropriately with heavy cash and certain hedges in place. But that does not make us immune. We still own stocks, and they're getting hit hard without discrimination at this point. Remember, the stock market has been at all-time highs most of the year. It was overdue. After Friday, the DOW was 10% below those highs. Today it closed the day 13% below its highs for the cycle.
"The comparison we've used all year has been 2011. That was the year that we last saw a 10%+ correction. The S&P actually fell peak to trough nearly 20% from Summer into Fall. That was the year Greece first hemorrhaged, causing spillover threats throughout Europe. It's also the year the US lost its AAA credit rating. There are a great deal of similarities today. The US remains by far the best shape of any economy, and capital market around the globe."
Mike's partner and company Founder Judith Bedell, whose specialty is BONDS, added, "Money is flowing into the Bond Market, seeking safety. The 10-Year Treasury yield is back below 2% for the first time since the Spring. It's critical to remember Bonds create balance in our portfolios and this is one of many reasons for it." Bedell's book about bonds sells on Kindle and is titled: THE ABC'S OF BONDS" The company just celebrated its 40th year in business taking care of individual clients by using stocks and bonds to build balanced portfolios.
The firm's newest partner and Chartered Market Technician, Mike Harris, CMT, reminds investors that the Bedell Frazier firm is trading from a period of strength in relative terms. "We have the highest cash position since 2011. We sold vulnerable stocks, took profits off the table and added hedges for downside protection as we have been doing all year long".
The partners at Bedell Frazier often remind their followers that: "We're all over it, because experience counts."
ABOUT BEDELL FRAZIER INVESTMENT COUNSELLING
For 40 years, Bedell Frazier Investment Counselling has provided the highest level of Wealth Management to its clients. Offering Investment Management, Financial Planning and Smart Money Solutions, BFIC specializes in services for every stage of your financial life. Started in 1975 by entrepreneur Judith Bedell, BFIC makes sure your money works as hard as you do.
Bedell Frazier Investment Counselling
200 Pringle Avenue, Suite 555 Walnut Creek, CA 94596 Primary: (925) 932-0344 Secondary: 1-800-783-0344 Website: http://www.bedellinvest.com
Media Contact: Meredith Rosen, questions(at)bedellinvest(dot)com