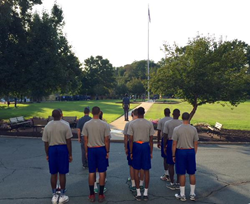 Fork Union, Virginia (PRWEB) August 25, 2015
At yesterday's check-in, another dozen or so basketball players registered to begin their school year as members of Fork Union Military Academy's postgraduate basketball team. They join a long line of players who have donned the grey uniform of a Fork Union cadet in order to prepare for college. They share high hopes, tremendous God-given talent, and perhaps a small measure of trepidation as they embark on this journey in a small gym located in rural Virginia, seemingly very far from the creature comforts that star athletes get used to in high school. For the next nine months there will be no cell phones, no entourage of friends and admirers, no special privileges, and no girls to impress. It can be a daunting future to face, if only for a few months. But for athletes hoping to earn an athletic scholarship to pay for their college education, Fork Union can be a life-changing experience.
Jarel Spellman, a player on last year's postgraduate basketball team, took to Twitter this past week to express his appreciation for that experience. In a series of tweets, beginning this past May, Spellman expressed his thanks for the opportunity he took advantage of at Fork Union, and the college scholarship he subsequently earned to continue his basketball career playing for Florida Southern University. His words, and the pure joy and appreciation he expressed, offer powerful motivation for the staff and faculty at Fork Union, and give an inspiring example of hope for this year's team members as they face the arduous and spartan life of a Fork Union cadet.
Back in May, as he left campus at the end of his year as a Fork Union cadet, Spellman tweeted:
"Fork Union was the best and most beneficial experience I have ever had in my life. I will never forget it. Now the next chapter begins."
In June, Spellman followed up on his verbal commitment to Florida Southern by signing his papers accepting his athletic scholarship:
"Just signed to Florida Southern today!"
His excitement was palpable as he described what this scholarship meant to him:
"Dodged $29k/year of college tuition and get to continue to play the best sport in the universe...I can't tell you how this feels."
Then, in August, as he packed for the trip to his new college home, Spellman reflected on where his journey all began.
"I'll never forget where it all started," he tweeted, posting a picture of a Fork Union basketball banner.
He followed up with a tweet saying, "Fork Union did more for me in 9 months than Herm did in 4 years."
Fork Union Military Academy then retweeted his May tweet to its @ForkUnion Twitter audience, offering congratulations to Spellman on his college scholarship:
"Bringing one back from the recent past...congrats on signing with Florida Southern!" and including Spellman's May tweet in which he said "Fork Union was the best and most beneficial experience I have ever had in my life. I will never forget it. Now the next chapter begins."
And Spellman then immediately responded to the school's retweet, saying:
"Thank you! Couldn't have done it without Fork Union! Go FUMA!"
"It often takes years or even decades for former cadets to recognize and appreciate the role that Fork Union Military Academy played in their journey," said Dan Thompson, the school's Director of Communications. "It is gratifying to see a young man like Jarel Spellman express his appreciation and acknowledge the role Fork Union Military Academy played in his life, so soon after departing our campus. It is heartening to know that he carries that positive perspective on forward to Florida Southern, and we hope and pray he will continue his hard work and experience the same level of success in that environment as he did at Fork Union."