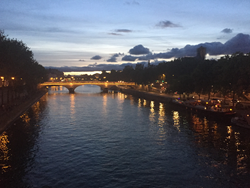 The retreat allows writers to enjoy their time in Paris without worrying about a thing.
Denver Colo., (PRWEB) August 26, 2015
The Left Bank Writers Retreat, a small-group writing workshop and literary tourism experience held in Paris each summer, is set to take place June 19-25, 2016. Open to all levels of writers, the six-day Left Bank Writers Retreat in Paris includes morning writing sessions, coaching and one-on-one time with the instructor for a maximum of eight writers, as well as lunch each day, admission to museums and area sights, a picnic on the banks of the Seine and a literary tour visiting many of the sites featured in the Woody Allen movie "Midnight in Paris." Tuition for the retreat of $1,999 covers all expenses during the retreat each day (writers are responsible for their own airfare and lodging).
"The retreat allows writers to enjoy their time in Paris without worrying about a thing," says founder and host Darla Worden. "I take care of reservations, buying tickets and passes and coordinating our transportation through the city—the only thing writers need to do is show up. Everything is arranged for them."
The Left Bank Writers Retreat is named for the now-famous writers who lived on Paris's Left Bank during the 1920s. Ernest Hemingway, Gertrude Stein, Ezra Pound, James Joyce and F. Scott Fitzgerald are some of the expats who wrote in Paris, congregating in the city's cafes and bars to share ideas. During the course of the June retreat, participants experiment with many of the Left Bank writers' techniques.
The retreat welcomes fiction and memoir writers, poets and playwrights. "Although there are no strict qualifications, each year I try to select a group that will work well together," says Worden. "Also, I like to see what a writer is hoping to accomplish while they are in Paris to make sure we are the right retreat for their expectations." Applications for the June 2016 retreat and registration information are online at http://www.leftbankwritersworkshop.com/register.
In 2016, Paris's iconic Ritz hotel will open once again after a years-long restoration, giving fans a chance to visit the famed Bar Hemingway—reportedly named for the writer when he "liberated" the bar after WWII with a group of resistance fighters ordering 51 dry martinis. Whether or not that tale is apocryphal, Hemingway and F. Scott Fitzgerald were known to spend time there in the '20s – and Worden has added the famous French hotel bar as a new stop for her June 2016 Left Bank Writers Retreat.
Darla Worden is a writer and public relations professional who lives in Jackson, Wyo., Denver, Colo., and Paris. Worden has written widely for magazines and authored several books. She writes the popular blog Frenchophile and is currently working on a book about Hemingway's Paris.
About the Left Bank Writers Retreat:
Now in its seventh year, the Left Bank Writers Retreat takes place on the historic Île Saint-Louis in the heart of Paris. Writers arrange their own lodging and transportation to Paris. For additional information, visit http://www.leftbankwriters.com.
Media Contact: Darla Worden, WordenGroup Public Relations, darla(at)wordenpr(dot)com, 303.777.7667