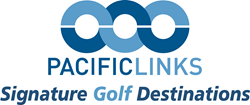 "Given the recent events, Pacific Links and our members feel it is time to support and grieve with the victims' families, friends and all residents of the great city of Tianjin," said Mr. Du Sha, owner and chairman of Pacific Links International.
Henderson, Nev. (PRWEB) August 25, 2015
Pacific Links International and the PGA Champions Tour announced today that the decision was made to cancel the 2015 Pacific Links China Championship. The event, scheduled for September 14-20, would have been the first Champions Tour to be played in China, and was to be held at one of Asia's most exclusive golf courses, Pacific Links' 27 Club. In light of the recent tragic explosions in the port area of Tianjin, China, it was determined the internationally celebrated and televised Pacific Links Championship will be postponed until next year. Although the 27 Club and surrounding areas were not directly affected by the explosion, event organizers agreed it would be inappropriate to continue with the event.
"Given the recent events, Pacific Links and our members feel it is time to support and grieve with the victims' families, friends and all residents of the great city of Tianjin," said Mr. Du Sha, owner and chairman of Pacific Links International.
Mr. Sun, president of the China Olympic Sports Industry (COSI), the event management partner for the Pacific Links China Championship, shared the same feelings as Mr. Du about this decision.
"As the event management partner, COSI would like to join with Pacific Links and the PGA TOUR's Champions Tour in grieving with everybody who has been affected by this tragedy," said Mr. Sun. "We are in full support of the people of Tianjin. We sincerely hope next year's Pacific Links China Championship can be held to honor the memory of those from Tianjin who died and were injured."
Champions Tour President Greg McLaughlin added, "On behalf of the Champions Tour and our players, we are confident this is the appropriate and correct decision. Our thoughts are with the victims and their families and those injured after this tragedy. We look forward to our continued partnership with Pacific Links and the 2016 Champions Tour event at the 27 Club in China."
Pacific Links International announced earlier this year that its signature PGA Championship Tour event would be relocated from Hawaii to China for 2015. The Pacific Links China Championship was set to coincide with the official grand opening of the company's flagship course in Asia, the 27 Club. For more information visit pacificlinks.com.
About The Pacific Links Championship
The Pacific Links China Championship is an official Champions Tour event. The $2.5 million tournament will be held at 27 Club in Tianjin, China, and will feature top Champions Tour players competing for a $375,000 winner's purse. This will be the first Champions Tour tournament ever contested in China.
About the 27 Club
The 27 Club has been three years in the making and is among golf's most exciting projects - and certainly one of the most ambitious golf projects in Asia. Opening spring 2015, 27 major champions have worked to incorporate their favorite elements of the game into each hole. Designers include: Angel Cabrera, Annika Sorenstam, Ben Curtis, Mark Calcavecchia, Mark O'Meara, Nick Faldo, Nick Price, Paul Azinger, Bernhard Langer, Curtis Strange, David Duval, Fred Couples, Scott Simpson, Johnny Miller, Steve Jones, Tom Lehman, Todd Hamilton, Ian Baker-Finch, Jeff Sluman, John Daly, Larry Mize, Lee Trevino, Greg Norman, Y.E. Yang, Vijay Singh, Tom Weiskopf and Tom Watson.
About Pacific Links International
Pacific Links International is a Canadian-owned golf corporation pursuing a strategy of acquiring signature properties in select world markets. Founded in 2009 and led by experienced industry executives the company is focused on implementing a plan whose main feature is reciprocal access to multiple clubs around the world that have strong design and deliver a memorable golf experience. Pacific Links International currently owns or operates ten courses in Hawai'i, Nevada, California and West Virginia in the United States and in China.
About The Champions Tour
Collectively, the Champions Tour has the most recognizable and accomplished players in the game, with many of its 32 members in the World Golf Hall of Fame competing regularly in its events. The Tour also counts numerous other major championship winners among its members. The Champions Tour is a membership organization of professional golfers age 50 and older. Conceived in 1980 as the Senior PGA Tour, it started with just four events and purses totaling $475,000. The Champions Tour's primary purpose is to provide financial opportunities for its players, entertain and inspire its fans, deliver substantial value to its partners, create outlets for volunteers to give back, protect the integrity of the game and generate significant charitable and economic impact in communities in which it plays. Points earned in official Charles Schwab Cup events in 2014 determined Bernhard Langer as the Charles Schwab Cup champion, the season-long competition designed to recognize the Champions Tour's leading player. The Commissioner of the PGA TOUR is Tim Finchem. Greg McLaughlin is President of the Champions Tour. The PGA TOUR's website is pgatour.com, the No. 1 site in golf, and the organization is headquartered in Ponte Vedra Beach, Fla. Follow the Champions Tour at facebook.com/ChampionsTour and on Twitter @ChampionsTour.
# # #
Media Contact: Amber Liptai | BIG YAM | aliptai@bigyam.com | 480-344-0163