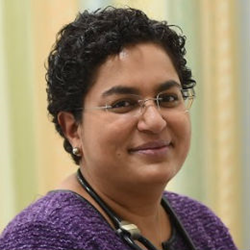 Ontario, Canada (PRWEB) August 26, 2015
Diversified Communications, producer of the Integrative Healthcare Symposium Canada announces that Sunita Vohra, MD, MSc, FRCPC, FCAHS will be presenting the first session at the Integrative Healthcare Symposium Canada taking place October 23-24, 2015 in Ontario.
Her session, titled 'Evidence-Based Approaches to Therapeutics in Children', will address three main issues:
1 - Is complementary medicine (CM) effective?
2 - Is CM safe?
3 - Where do attendees go from here?
Dr. Vohra is one of eight speakers who will be presenting on topics such as: Metabolic Syndrome, Pain Management, Women's Health, Brain, Mind & Mood, Nutritional Science, Brain/Gut Health and more.
The Integrative Healthcare Symposium Canada is a new event that offers practitioners an evidence-based forum to learn the latest in integrative therapies. Through case-studies, networking with multi-disciplinary practitioners, Q&A with some of the thought leaders in the field and more, you'll walk away armed with the knowledge necessary to effectively create care plans that incorporate the best treatments available.
Attending practitioners include: Medical Doctors, Osteopaths, Residents, Registered Nurses, Registered Dieticians, Nutritionists, Chiropractors, Naturopaths, Homeopaths, Traditional Chinese Medicine practitioners, Pharmacists, Faculty and more.
This event is being supported by many groups and associations. View the full list of Supporting Partners by visiting the event site: http://www.ihsymposium.com/Canada. For more information on becoming a supporting partner, please email Emily Steele at esteele(at)divcom(dot)com.
Booth space has become limited as many companies are looking to expand their reach or strengthen their relationships with Canadian-based practitioners. For information about booth availability, contact Carmella Perrone at cperrone(at)divcom(dot)com.
Visit the event site for more information – http://www.ihsymposium.com
About Diversified Communications
Integrative Healthcare Symposium is produced by Diversified Communications. Diversified Communications, based in Portland, Maine, US provides information and market access through face-to-face events and online resources on multiple continents. Diversified serves a number of industries including: health care, seafood, food service, natural and organic, commercial marine, and business management. For more information, visit: http://www.divcom.com.