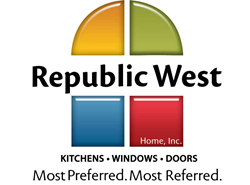 Las Vegas, NV (PRWEB) August 26, 2015
With temperatures exceeding averages for this time of year, Republic West Home Las Vegas announced it would prolong its "buy 2, get 1 free" window deal in an effort to help homeowners stay cool for the remainder of the summer.
The top-rated company specializes in window and door replacement as well as kitchen refacing and remodeling, but it's their energy efficient windows that are the focus of their most recent deal. The "buy 2, get 1 free" deal is equivalent 33% off retail pricing on windows, making it more affordable than ever for homeowners to protect their home from harmful UV rays while lowering their electricity bill.
Republic West Home's EPA certified window installation experts determine what size and style of window would most benefit the homeowners. There are many factors that can determine how much heat a home is exposed to, such as home positioning in relation to the sun and geographical area. These factors can all make for excruciatingly hot summers if homes aren't properly equipped with the right windows to maintain insulation.
Republic West Home prides itself in helping provide homeowners with the right tools to create a more comfortable living environment for themselves and their families. Deals like these are just one of many ways that the company hopes to continue improving its surrounding communities and setting the bar for customer service and quality.
Customers can visit Republic West Home's state-of-the-art showroom and design center from 9 am to 5 pm weekdays.
Republic West Home is a licensed, bonded and insured contractor servicing Scottsdale and Phoenix, Arizona as well as Las Vegas and all surrounding cities. Free estimates can be obtained by calling (480) 423-9300 in Scottsdale and 702-576-0033 in Las Vegas.
About Republic West Home:
Republic West Home is a company that stands for quality, honesty and the best value. Our vision, in an industry often lacking ethics and reliability, is to deliver the best home improvement experience possible.
To deliver the best possible experience before, during and after the completion of your project, an extensive team of professionals was put in place: employees driven to make the home improvement experience a great one for you, our customers. The formula works and the pleasant experiences we create for our customers have paid off. In an industry where repeat business averages less than 5%, Republic West Home and our 15,000+ clients generate an amazing 50% of our business from previous customers and referrals.
For additional information, please visit http://www.republicwesthome.com
About Tank Paint:
In the never ending battle against the elements, Tank Paint is your newest ally. Once only available to high end contractors and the government sectors, Tank Paint has been uniquely engineered to provide a lifetime warranty against chipping, peeling and cracking and provides an impenetrable moisture barrier that truly acts like a coat of armor for your home. Tank Paint, now available to the civilian market is only available through their trained network of dealers.
For more information, please visit http://www.TankPaint.com .
Media contact:
Jason W. Jantzen
Phoenix Marketing Associates
http://www.PhoenixMarketingAssociates.com
602-282-0202