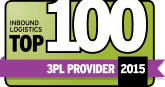 AGS was selected because its solutions solve specific logistics challenges and improve processes, and create a ripple effect of efficiencies across the entire value chain.
New Hyde Park, NY (PRWEB) August 27, 2015
New York based Associated Global Systems (AGS), a full service transportation and logistics provider, has been named as one of the Top 100 Third-Party Logistics Providers by Inbound Logistics Magazine for 2015.
AGS has been serving customers since 1958 with over 125 locations and a nationwide staff of transportation experts. AGS handles shipments of any size, to or from every zip code in the U.S. and Canada along with 196 countries around the world. Their specialty is providing logistics solutions that are customized to customers' needs. AGS offers innovative cost effective solutions for domestic, international, air and ocean freight forwarding, as well as providing an outstanding program of supply chain services.
AGS is also a leader in developing technology solutions for its customers. MyAGS.com offers its users significant benefits; online entry of domestic and international shipments, instant tracking, and a personalized website.
Each year, Inbound Logistics editors select the best logistics solution providers by carefully evaluating submitted information through conducting personal interviews, performing online research and comparing that data to our readers' burgeoning global supply chain and logistics challenges. Inbound Logistics selected this year's class of Top 100 3PLs from a pool of more than 300 companies. According to Inbound Logistics editors, the service providers selected are companies that offer diverse operational capabilities and experience to meet readers' unique supply chain and logistic needs.
When choosing the 2015 Top 100 3PL Providers, Inbound Logistics editors looked for providers demonstrating excellence in optimizing transportation and logistics operations as well as transformative solutions that drive integration across internal and external business processes. AGS' solutions were found to solve specific challenges and improve processes; creating a ripple effect of efficiencies across the entire value chain. Inbound Logistics is proud to honor AGS for innovating solutions that empower logistics and supply chain excellence.
Inbound Logistics is the leading trade magazine targeted toward logistics and supply chain managers. The magazine's editorial mission is to help companies of all sizes better manage corporate resources by speeding and reducing inventory, supporting infrastructure, and better matching demand signals to supply lines. More information is available at http://www.inboundlogistics.com.