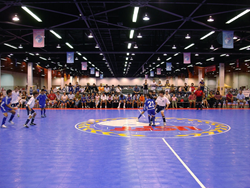 SnapSports has manufactured a high performance sports flooring system that U.S. Futsal is proud to endorse.
Salt Lake City, Utah (PRWEB) August 28, 2015
The United States Futsal Federation (USFF), the country's governing body for the sport of Futsal, and SnapSports Athletic Surfaces, a world premier manufacturer of indoor and outdoor modular sports flooring, have partnered in an exclusive multi-year agreement naming SnapSports as the 'Official Sports Floor' of U.S. Futsal. Both parties are eager to continue working together to service the sport of Futsal in the United States and provide a safe high performance product for the thousands of athletes that will compete each year.
"With over 5,000 participating athletes at each event, I rest assured that not only are we providing a surface that exhibits superior ball play, but we are providing the safest sports flooring available. SnapSports® has manufactured it's Indoor ShockTower®, a high performance sports flooring system with an incredible level of protection from injury upon player impact that U.S. Futsal® is proud to endorse." Alex Para, President USFF
Futsal is a five-a-side version of soccer for competition and played on basketball-sized athletic courts. Futsal is played both indoors and out on hard surfaced courts without the use of sidewalls. This exciting and fast paced sport originated in Brazil in the 1930's and today is played worldwide at every level by millions. The United State Futsal Federation was founded in 1980 and has actively sought avenues through which it can promote Futsal by working with other organizations. U.S. Futsal is now affiliated with Boys and Girls Clubs of American and the U.S. Youth Soccer Association (USYSA) as their game of choice for indoor soccer and are working with YMCA, National High School Association of America and many others. The USFF values goodwill through physical fitness and promotes a productive outlet for youth in our society.
U.S. Futsal hosts Regional competitions annually throughout the United States and the U.S. Futsal National Championship is the largest, biggest and oldest Futsal Championship in the United States. Regional competition and National Championship games are played on anywhere from 80,000 to over 100,000 square feet of SnapSports patented ShockTower surfacing, the only modular sports flooring with independent shock absorbers built-in for added player safety and performance.
"We're proud that U.S. Futsal continues to choose our courts over any other competitors and we consider it a testament to the unmatched quality and performance of our vast sports flooring line-up," Jorgen Moller- SnapSports.
Snapsports is recognized as the world's premier manufacturer of modular sports flooring and has been named the "Official Court' of numerous world-class sports organizations such as NBA All-Star Jam, AAU Jam On-It, Big South Volleyball, NBA3X, to name a few.
"Each year SnapSports® continues to prove they are the clear industry leader in athletic surfacing, designing and manufacturing cutting edge products that far surpass the competition " Alex Para president USFF
SnapSports' athletic surfaces, provide unmatched performance while also giving the athletes an added level of protection from injury on impact. "Our multi-patent sport surfacing is the ideal choice for such a fast action sport. We took our 40 years of manufacturing & hands-on experience and put it into the sport surface all U.S. Futsal players will be competing on. We are very happy to be a part of such a great sports organization." remarked Jorgen Moller - SnapSports "
SnapSports is recognized as the global leading manufacturer and supplier of premium indoor modular sports surfacing and outdoor athletic courts for both the residential and commercial marketplace. SnapSports manufactures 24/7 in their 150,000 square foot ISO 9001:2008 Quality certified facility in Salt Lake City, Utah. SnapSports is the Official surface of The United States Futsal Federation, AAU Basketball Jam On it, AAU All Under one Roof, NBA3x, The Big South, NBA Jam Session, NBA Nation, NBA House, and USA Team Handball. SnapSports is an official FIBA Technical Partner and has been a proud partner of The Special Olympics, The National Veterans Wheelchair Games, The Volleyball Festival, Gus Macker 3X3, The Vanilla Ice Project, World Police & Fire Games and The National Collegiate Roller Hockey Championship to name a few. SnapSports surfaces are made in the USA and played on around the world.