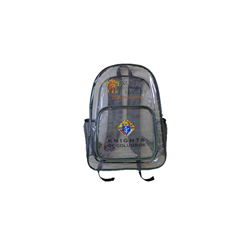 CFB Promotional Products is a company that grew out of my experience from two decades of creating custom packaging, kits and marketing collateral. This project was truly a labor of love - Linda Milano
(PRWEB) August 26, 2015
Linda Milano, owner of CFB Promotional Products, LLC in Sicklerville, New Jersey, designed a clear backpack to be used for all registrants of the World Meeting of Families Congress.
While designing the backpack Mrs. Milano kept in mind practicality, fun and security aspects needed for this type of event. Mrs. Milano had the foresight to develop a clear backpack that displays the full color of the World Meeting of Families – Philadelphia 2015 logo and provides security personnel an easy view of the contents (which the newly released Papal Visit Playbook recommends.) Mrs. Milano said, "CFB Promotional Products is a company that grew out of my experience from two decades of creating custom packaging, kits and marketing collateral. This project was truly a labor of love."
About the World Meetings of Families
Beginning in 1994, the "Year of the Family," the Pontifical Council for the Family has been responsible for organizing World Meetings of Families in Rome (1994), Rio de Janeiro (1997), Rome (2000), Manila (2003), Valencia (2006), Mexico City (2009), Milan (2012), and now, Philadelphia (2015). Since its inception by Saint John Paul II, the World Meeting of Families has sought to strengthen the sacred bonds of family across the globe. This international gathering will welcome Pope Francis to the United States for the first time in his Papacy. Being held in the United States for the first time ever, the official theme for the 2015 World Meeting of Families is "Love is Our Mission: The Family Fully Alive."
About CFB Promotional Products, LLC.
A full service specialty advertising/promotional marketing company. CFB Promotional can reached at info(at)cfbpromotionalproducts(dot)com.