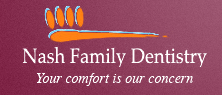 Vicksburg, MS (PRWEB) August 25, 2015
Dr. Kenneth Nash, a leading dentist in Vicksburg, MS, with Nash Family Dentistry, is now more qualified to offer patients the most technologically advanced treatments available today. The doctor has been using the BIOLASE WaterLase MD™ laser for nearly 10 years, but he recently expanded his knowledge by attending an Advanced Laser Perio course for the BIOLASE WaterLase iPlus 2.0™. During the course of this seminar, he was able to hone his skills to better treat his periodontal patients, using advanced laser dentistry.
The hands-on course included the standard procedure of how to diagnose and treat all stages of periodontal disease, as well as protocols on appropriately handling specified scenarios with laser dentistry. The doctor also acquired information about bone and gum grafting procedures, suturing techniques, low level laser application, and other forms of laser assisted procedures. Patients can be assured that the doctor has both the knowledge and qualified experience necessary to safely and competently operate his laser, generating the best possible outcome for each of his patients and their individual needs.
The BIOLASE WaterLase iPlus 2.0™ is a high speed cutting tool that works without producing heat or vibration. It combines laser technology with high energized water to create a virtually pain-free experience for patients. Individuals no longer have to fear excessive pain during their procedures, allowing many patients to feel more reassured about calling a dentist in Vicksburg, MS, to seek out appropriate treatment. Some patients feel no pain at all, while others only experience a mild discomfort. It has been proven that the procedure also reduces the risk of cross contamination.
Those who would like to learn more about how laser dentistry can help them achieve their best smiles are invited to contact Dr. Nash's office. Patients should look for a dentist in Vicksburg, MS, who can maximize their oral health using the most advanced treatments available today. As one of the few dentists in the area who offer laser treatments, Dr. Nash is well-equipped and well-prepared to handle even the most difficult of cases. Contact his office to make an appointment.
About the Practice
Nash Family Dentistry is a general practice offering personalized dental care for patients in Vicksburg, MS. Dr. Kenneth Nash and his team provide patients with the latest in dental technology in a comfortable and welcoming environment. Dr. Nash offers a variety of services including laser dentistry, dental implants, and cosmetic dentistry services, among others. To learn more about the services offered at Nash Family Dentistry please visit the website at http://www.vicksburgdentist.com or call (601) 634-1812 to schedule an appointment.