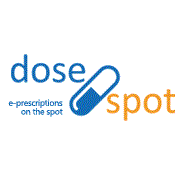 Telehealth is clearly here to stay as it is the perfect mix of healthcare disruption and the on-demand economy
Needham Heights, MA (PRWEB) August 26, 2015
DoseSpot, an industry leader in e-Prescribing integration platforms for medical, dental and telehealth software, today announced that SkyMD, a specialty-specific telemedicine system for medical practices, has successfully integrated DoseSpot. Through the partnership, SkyMD successfully completed Surescripts certification and their providers can now e-Prescribe to more than 65,000 pharmacies nationwide.
As the virtual extension of the brick and mortar medical practice, SkyMD brings continuity of care to digital health by enabling the same healthcare provider to care for their patient virtually or in person as required. The DoseSpot platform was SkyMD's top choice due to DoseSpot's quick e-Prescribing integration process including the DoseSpot-led Integrate-A-Thon, an accelerated one day e-Prescribing integration program SkyMD participated in.
"Telehealth is clearly here to stay as it is the perfect mix of healthcare disruption and the on-demand economy," said Greg Waldstreicher, CEO, DoseSpot. "It is great to see SkyMD out there on the front lines, helping medical specialists treat their patients outside of the office."
"We're focused on enabling healthcare providers to deliver convenient, high quality care to their patients at a fraction of the cost," said Eric Price, Founder and CEO, SkyMD. "In partnership with DoseSpot, our network of healthcare providers can safely and efficiently e-Prescribe the medications their patients require."
For more information on DoseSpot's telehealth e-Prescribing software, please visit http://www.DoseSpot.com/integration-preparation.
About SkyMD
SkyMD is a specialty specific telemedicine system for medical practices. For healthcare providers, SkyMD is a new channel that creates efficiencies in nonprocedural treatment while driving incremental revenue for the practice. For patients, SkyMD delivers a service that enables them to access quality care from their healthcare provider anytime, anywhere. The company's first specialty of focus is dermatology, and it plans to rollout its advanced telemedicine platform to additional specialties in the future. For more information on SkyMD, please visit http://www.skymd.com.
About DoseSpot
DoseSpot is a Surescripts certified e-Prescribing platform specifically designed to integrate with electronic health record, electronic dental record, practice management and telehealth software. DoseSpot is certified to e-Prescribe controlled substances and has provided simple, affordable and integratable e-Prescribing solutions to healthcare IT companies since 2009. For more information, please visit http://www.DoseSpot.com.