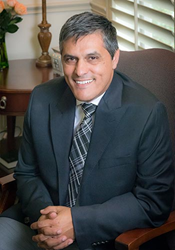 Allen, TX (PRWEB) August 25, 2015
Dr. Marco Cueva, a leading periodontist in Allen, TX, now offers the leading treatment for patients with receding gums. Dr. Cueva is newly certified in the Chao Pinhole® Surgical Technique, which requires no invasive cutting or sutures. Patients who once feared gum recession surgery due to the intense experience, pain and extensive recovery period, no longer need to carry worrisome burdens of anxiety.
Gum recession is a serious condition that can be incredibly detrimental to the roots of the teeth. It can be caused by numerous factors, including periodontal disease, genetics, brushing too hard, and grinding of the teeth. Patients may notice that they are affected by the condition with the elongated appearance of their teeth. While the aesthetic aspects of gum recession are bothersome, the long-term health effects are much more serious. Patients should receive treatment immediately to prevent future issues.
As a periodontist in Allen, TX, Dr. Cueva is dedicated to providing his patients with only the most innovative advancements for dental treatment. For this reason, he recently became certified in the Chao Pinhole® Surgical Technique. This simple procedure involves manually adjusting the gums back into their original position to cover the full roots of the teeth. Although it may appear to be a very complex procedure, it is actually a minimally invasive procedure that can be completed in as little as an hour. The procedure begins when the doctor places a small hole in the area above the receding gums. Through this hole, Dr. Cueva uses specialized tools to gently detach the gums and move them back to their proper place. The tissue is held in place using strips of collagen, which are eventually absorbed by the body. With such occurrence of little trauma to the mouth, patients can immediately resume their normal routines.
Those with receding gums are encouraged to find a periodontist in Allen, TX, and receive immediate treatment. To set up an appointment with Dr. Cueva, simply visit his website or call his office to reach the scheduling department.
About the Practice
Periodontal Excellence is a periodontal practice offering personalized dental care for patients in Allen, TX. Dr. Marco Cueva is a Board Certified Periodontist and has extensive education in periodontology and dental implantology. He attended the Federal University of Parana where he received his Doctor of Dental Surgery Degree, and completed three additional years of training at Camillo Castelo Branco University, before training at Baylor College of Dentistry. Dr. Cueva also earned his Masters of Science Degree in Oral Biology with a certification in Periodontics from Texas A&M University Health Science Center- Baylor College of Dentistry. Dr. Cueva offers a variety of services, specializing in dental implants, All-on-4™ and the minimally invasive Chao Pinhole® Surgical Technique for treating receding gums. To learn more about the services offered at Periodontal Excellence please visit the website at http://www.perioexcellence.com or call (972) 390-9944 to schedule an appointment.