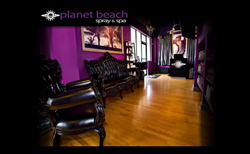 New Orleans, LA (PRWEB) August 26, 2015
It has been almost twenty years since the original "Planet Beach Tanning" opened its doors in New Orleans, LA. The first of its kind, Planet Beach transcended the rudimentary, run-of-the-mill fitness centers by yielding spa results at a price the general population could afford. Like most innovative ideas, Planet Beach has seen many alterations and progressive changes over the last two decades in favor of having a clear appellation and a focused niche in the marketplace.
Initially "Planet Beach Tanning" was exactly that. The age of the tanning bed was upon us and a short, sweet brand name basis on which to build a franchise was all that was required. However, in 2005, an ambition to build a multi-faceted business empire unlike any other was born. The aspiration to bring the spa experience to any budget evolved and changing the name to "Planet Beach Tanning and Spa" was a pinnacle solution in securing the company's new reputation.
Over the last ten years, Planet Beach has experienced slight alterations to its name, but none exhibited the "Cinderella" perfect fit. Calling itself "Contempo" inspired a unique vibe, but often left new, potential members confused as to the services employed by the company. Transitioning to the name "Automated Spa" yielded some uncertainty as well, and proved to be ineffective in making the tanning intention of the company salient.
Finally, after much deliberation and creative discussion, "Planet Beach spray & spa" came to be. Since opening the original Planet Beach, over 200 locations have developed nationally and will be steadily assimilating to adopting this new title and spa style. In the meantime, members may still enjoy Planet Beach's fabulous equipment and services, (unless otherwise noted on a location to location basis) as well as bask in glamor of the renovated spas as they complete the final aesthetic and dynamic shift to total transformation.
###