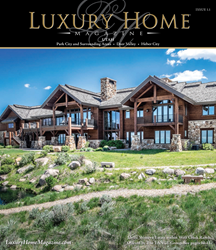 This is truly a product that is unlike anything else in the area
El Dorado Hill, CA (PRWEB) September 03, 2015
Luxury Home Magazine® proudly announces the launch of Luxury Home Magazine of Utah. The Utah market is the second new market Luxury Home Magazine has launched in 2015, with several more currently preparing to debut. Luxury Home Magazine is the largest publisher of market specific luxury real estate publications throughout North America.
The instant you see the premiere issue of Luxury Home Magazine of Utah, you realize that this is no ordinary magazine. Luxury Home Magazine of Utah is actually two magazines combined into a single publication (one part covering the Park City market and the other part representing the Salt Lake City & Southern Utah markets). Two front covers, one from each market, further add to the uniqueness of this publication's layout. As readers explore the magazine, the orientation of the pages flip when the readers go from one section to the other.
Emile Bonfiglio, Senior Vice President of Luxury Home Magazine, shares his thoughts on the Utah market. "This has been a market that LHM has been looking to open in for many years. We knew that there were two very distinct markets in a relatively small geographic area. The beauty of this magazine is that we are able to combine two amazing markets and let them leverage off of each other to create a distribution network that is truly unique. The added local, national and international distribution these properties will receive, give our advertisers and their clients a real edge over their competition. This is the first magazine in our system to utilize this type of layout, but based on the feedback we've received, it won't be our last!"
Publisher of the Utah magazine, Seth Price, commented on the magazines unique layout. "This is truly a product that is unlike anything else in the area. At first, people were not sure what I meant when I said that the magazine would flip at some point and you would be looking at pages that are upside down. Once we got the product into the marketplace, we have received amazing response and praise. It is fantastic to simultaneously feature two incredible properties on two front covers in the same magazine. The fact that we have The Lange Group on one cover and David Lawson on the other cover shows that Utah's top luxury real estate specialists have embraced our product. "
The addition of the Utah magazine to Luxury Home Magazine's ever expanding portfolio of markets they represent continues to show that LHM is the leader in market specific luxury real estate publications. "We are constantly looking for entrepreneurial minded people that want to be involved in something that is exciting, fulfilling and represent a product that you can really be proud of," said Brad Taylor CEO. The website http://www.luxuryhomemagazine.com/opportunity will provide a step-by-step overview for individuals looking for the opportunity to own and operate a publishing/digital marketing media business.
Luxury Home Magazine.
About Luxury Home Magazine:
Luxury Home Magazine® is a division of Sunshine Publication, Inc. / LHM Media Group. Online magazine content featuring stunning luxury homes, the finest luxury real estate and luxury real estate specialists can be found at LuxuryHomeMagazine.com. For more information: info(at)lhmmediagroup(dot)com