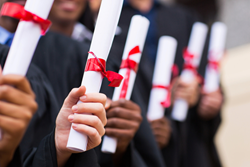 Allowing disadvantaged and underprivileged individuals the opportunity to earn a quality accredited diploma is something we're proud to do", says Rod Clarkson CEO of Excel High School.
Plymouth, MN (PRWEB) August 28, 2015
Minneapolis-based drug and alcohol treatment program, Adult & Teen Challenge, has selected Excel School — a nationally recognized online high school offering a fully accredited high school diploma — to serve its clients as they seek to move beyond alcohol and drug dependence. This partnership between the two complementary organizations promises real improvement to the futures of program participants who are willing to put in the time and work involved in bettering their lives and improving their circumstances.
Excel High School offers courses that enable anyone — from high school dropouts to accelerated learners — to pursue their own personal educational goals. From earning a General Studies or adult diploma to working toward a diploma in advanced studies in preparation for university enrollment, students can adapt the program to suit their own educational needs. This fully accredited online high school makes it easy for students to earn a regionally accredited high school diploma by enrolling in and completing all the required courses online.
Recognized by the U.S. Department of Education and valid in all 50 states, the Excel High School academic program and diploma are accredited by AdvancED via the North Central Association Commission on Accreditation and School Improvement (NCA CASI). This official accreditation certifies that the academic program offered by Excel High School has met a standard of excellence that assures a high-quality educational experience for students. It also signifies that the Excel program is subject to an ongoing process of internal and external review and improvement to keep quality high and program features relevant to the educational needs of students
In operation for close to three decades, Minnesota Adult & Teen Challenge offers adults and teens in the Twin Cities and surrounding areas who are struggling with drug and alcohol addiction several types of recovery programs to help them win the battle against dependency.
Programs range from outpatient and short-term life renewal programs to long-term adult programs and programs that are designed to meet a variety of teen needs. Educational services include opportunities for both teens and adults to earn their high school diplomas through the online schooling offered by Excel School. In addition, adults may prepare for the GED test online through Excel School. However, the test itself must be administered in person at a local testing place.