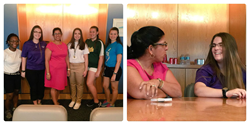 "Exposing these young women to inspiring and successful role models will show them that they have the power to change not only the perception of S.T.E.M. careers, but to change history," said MOSI's CEO Molly Demeulenaere
Tampa, Florida (PRWEB) August 26, 2015
The State of Florida has pledged to foster 5,000 mentor-mentee relationships within the next four years as a part of the Million Women Mentors (MWM) program. This program encourages young women ages 12 – 24 to pursue careers in the S.T.E.M. (Science, Technology, Engineering and Mathematics) fields. Million Women Mentors' goal is to sponsor programs that connect girls and young women with S.T.E.M. professionals and increase the number of women who choose to pursue, and succeed, in careers in these fields.
The collaboration includes partnerships with multi-national corporations, reaching more than 30 million girls and women. The MWM Leadership Council, chaired by organizations including Cisco, PepsiCo, Sodexo and Tata Consulting Services have to date received more than 200,000 pledges to mentor. Pledges have been gathered through their website at http://www.millionwomenmentors.org.
"Hillsborough County Public Schools is thrilled to partner with MOSI on this most important of S.T.E.M. initiatives. While we have made great strides to increase participation by all students in S.T.E.M., there is still much work to be done," said Larry Plank, Director of K-12 Science, Technology, Engineering & Mathematics Education for Hillsborough County Public Schools. "The Million Women Mentor initiative will augment our robust S.T.E.M. profile and ensure that our female students will receive the support they deserve from what we affectionately refer to as the ABCs of S.T.E.M. education – our academic, business and community partners. With this in mind, the MWM initiative in Tampa will serve as a model for the state to follow in an effort to engage more female students in S.T.E.M., perhaps even inspiring them to consider a career in a S.T.E.M. field."
MOSI launched this effort in Florida on Aug. 13 with a cocktail hour and networking with the S.T.E.M. leaders of the community. Mentors and mentees are following a guidebook that facilitate an understanding of the program, along with goals and expectations for the program.
"MOSI is committed to changing the negative stereotypes which discourage women from entering a S.T.E.M-based career," said Molly Demeulenaere, MOSI's CEO and President. "Exposing these young women to inspiring and successful role models will show them that they have the power to change not only the perception of S.T.E.M. careers, but to change history."
For more information on the Million Women Mentor programs, or to pledge time as a mentor for local youth, visit the Million Women Mentor's website at http://www.millionwomenmentors.org.
About MOSI (Museum of Science & Industry)
MOSI is a not-for-profit, community-based institution and educational resource dedicated to advancing public interest, knowledge, and understanding of science, technology, engineering, art and math (S.T.E.A.M.) and is home to the Florida Hospital IMAX® DOME Theatre, the only IMAX dome theater in the state of Florida. MOSI's core ideology is to make a difference in people's lives by making science real for people of all ages and backgrounds. MOSI gives away more than $3 million in free or discounted memberships each year, $250,000 in free tickets annually and approximately 600 scholarships each year for children to attend MOSI Summer Science Camps. Additionally, MOSI's education staff works closely with area teachers offering free training and support for area science educators. With a total size of more than 400,000 square feet, MOSI is the largest science center in the southeastern United States. Learn through play inside Kids In Charge! the largest Children's Science Center in the nation or The Amazing You—a 13,000-square-foot exhibition on health and wellness. Conquer your fears on MOSI's Sky Trail® Ropes Course and Zip Line. Budding inventors can engineer anything imaginable and hold it in the palm of their hand in MOSI's technology playground and inventor's studio, Idea Zone; and aspiring astronauts can travel to the moon to operate a lunar colony in Mission: Moonbase, funded in part by NASA. MOSI is the proud winner of the 2009 National Medal for Museums by the Institute of Museum and Library Services, the nation's highest honor for museums and a recipient of the NOYCE Foundation's Bright Lights Community Engagement Award. For more information on MOSI, visit http://www.mosi.org.