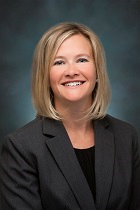 DENVER, Colo. (PRWEB) August 27, 2015
Lewis Roca Rothgerber LLP, one of the largest commercial law firms in the western U.S., announces the addition of Emily Charlesworth to its Business Transactions Practice Group.
Charlesworth, an Associate in Lewis Roca Rothgerber's Denver office, represents lenders and borrowers in secured lending transactions, including real estate and other asset based lending, loan workouts, loan modifications, foreclosures and deeds in lieu of foreclosure.
With a background as outside general counsel for many banks and other lenders, she provides advice on general banking, regulatory, finance, real estate, foreclosure, bankruptcy and collections matters.
Additionally, Charlesworth has experience in estate planning and real estate, including commercial real estate acquisitions, financing, leasing and land use matters. She also assists in drafting real estate documents and can advise clients on corporate law matters.
Charlesworth holds a J.D. from the University of Denver Sturm College of Law and received a B.S. in Business Administration (Finance) from the University of Colorado, Boulder. Prior to joining the firm she spent a year as in-house counsel before moving into private practice in the Denver area.
About Lewis Roca Rothgerber LLP
Lewis Roca Rothgerber offers legal and strategic industry experience to help clients realize business value, provide informed counsel on the issues that matter most. With more than 250 attorneys in nine cities across the western U.S., the firm assists organizations with a wide range of business matters including litigation and commercial transactions. Lewis Roca Rothgerber's lawyers practice in the areas of complex commercial litigation, finance, tax, insurance, intellectual property, regulatory, government relations, and labor and employment law. Learn more at http://www.LRRLaw.com.
###