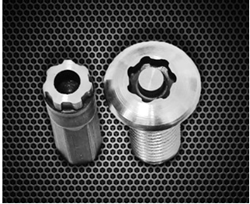 "After 10 years of developing new cold heading methods to improve security, now we're making our security screws perform better. Security screws are expensive to manufacture. By making them easier to use, the owner may recoup costs in installation." Bryce
Gilbert, Arizona (PRWEB) August 26, 2015
REVX® was designed to overcome the security and performance faults found in the tamperproof screw industry. "After 10 years of developing new cold heading methods to improve security, now we're making our security screws perform better. Security screws are expensive to manufacture. By making them easier to use, the owner may recoup costs in installation." Bryce Campbell, President and CEO
Higher performance of REVX® is achieved by the perpendicular driving face and tapered socket features of the screw and bit. Torque is optimized, eliminating cam-out and a tight stick fit control is gained. When compared to six-lobe fasteners, REVX® tolerances proved to be 10 times tighter. The resulting "one handed control" makes assembly time faster.
Configuration of the head shape is engineered to reject conventional security bit tips and common tools. Only a REVX® security bit, manufactured by Bryce Fastener, can install and remove the screw. Fasteners are available in sizes ranging from #2(M2 metric) to 5/8-11 (M16 metric), in stainless steel and alloy, with special distributor pricing.
Originally, patents and trade secrets kept security screw bits difficult to obtain. Patents have lapsed and unrestricted manufacturing of security bit tips has commenced in Asia. Security bit tip kits are now distributed in retail hardware stores. At present, tamper proof screws can legally only claim they are "tamper resistant."
REVX® requires a multi-pronged approach to solve this problem. 1. LEGAL: Trademarks and patents were gained specifically targeting those countries most likely to manufacture security bit tips. 2. TRADE SECRETS: Bryce Fastener has developed trade secrets and specialized machines to make bits. Once patents have lapsed, these developments will continue to keep REVX® bits secure. 3. CONTROL OF BITS: Only Bryce Fastener will manufacture REVX® bits and requires every distributor to not sell retail. 4. PERFORMANCE: The most popular high torque security screws are 50 years old. The industry standard specifications used to make them, diminishes their security. Specifications for REVX® are reengineered, giving the installer high security with quick installation.
Bryce fastener Inc. was established in 1972. The last 20 years have been dedicated to making security fasteners more secure. Their industry leading patents have acquired national and international attention, catapulting Bryce Fastener to producer of the world's most secure fasteners. Presently, Key-Rex®, Penta-Plus™, Penta-Nut™, Key-Rex Nut™ and Core Lock™ hold a 99.99996% success rate. Bryce Fastener does everything in house, including, design, manufacturing of tooling, heat treating, heading, threading, dip spin coating and packaging. They currently serve a wide array of responsible organizations, industries and manufacturers concerned with safety and security.