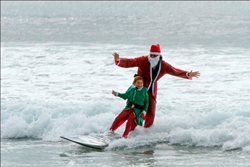 Dana Point, California (PRWEB) August 27, 2015
The Ritz-Carlton, Laguna Niguel presents the Annual Holiday Surfboard Auction and Surfing Santa Competition. Honoring the resort's Community Footprints commitment to supporting worthy causes, these two seasonal events support Surfers Healing whose mission is to enrich the lives of people living with autism by exposing them to the unique experience of surfing.
The Holiday Surfboard Auction showcases an amazing selection of surfboards that are displayed at the resort and auctioned off to benefit Surfers Healing. The auction opens on Saturday, November 21 and bidding closes at noon on December 31. Surfboards are on display at The Ritz-Carlton, Laguna Niguel throughout the holiday season. The auction runs online and can be found at http://www.BiddingforGood.com/SurfersHealing.
The Surfing Santa Competition takes place on Saturday, November 21 at Salt Creek Beach. The competition features prizes in five categories including:

Surfing Rudolph (Shortboard) - Guys 18 and over
Santa's Elves (Shortboard) - Guys 17 and under
Candy Canes (Shortboard) Girls all ages
Yule Loggers (Longboard) Open to Guys and Girls
Sleigh Riders (Bodyboard) Open to Guys and Girls
All contestants are eligible for the $1,000 Big Air prize which is based on contestable air points throughout the day. The contestant who surfs wearing the best Santa or holiday-inspired costume will win a Carver Skateboard. Competitors can register at http://www.SurfingSantaContest.org.
# # #
About Surfers Healing
Though Surfers Healing serves thousands, their mission exists because of one child. Izzy and Danielle Paskowitz founded Surfers Healing because of their son, Isaiah. Isaiah has autism, and when he struggled with meltdowns and sensory overload, riding the waves with his father calmed him like nothing else. Not everyone has a championship surfer for a Dad, so the Paskowitz family invited others to join them at the beach. Their idea caught on, and now Surfers Healing is a nationwide, grassroots non-profit organization. They are the original surf camp for children with autism and ALL of their events are free. Yet even though they had 4,500+ participants last year – and even though autism now affects 1 in 68 children in the U.S. – Surfers Healing doesn't think in thousands. They think in ones, because that's where they can effect change. One child. One family. One day at the beach.
About The Ritz-Carlton, Laguna Niguel
Located halfway between Los Angeles and San Diego, The Ritz-Carlton, Laguna Niguel sits on a 150-foot bluff with panoramic white-water views of the Pacific Ocean and two-miles of sandy beach. The resort is a re-imagined surfside retreat that awakens guests' senses with its unique ocean-front setting and remarkable service heritage. As the premiere destination for travelers who desire a playful approach to Southern California luxury, the resort has been the recipient of many awards over the years, but is proud to boast earning AAA Five Diamond status for the 29th year, the longest in California. For more information or reservations call 800-241-3333, the resort directly at 949-240-2000, a travel professional or visit http://www.ritzcarlton.com/lagunaniguel