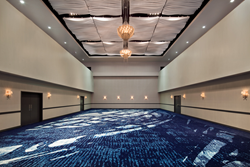 Oklahoma City, OK (PRWEB) August 26, 2015
Sheraton Oklahoma City Downtown, Nimes Capital and Crescent Hotels & Resorts is pleased to announce the debut of the newest meeting room which offers more than 2,600 square feet of flexible and versatile meeting space. This diverse new space offers new options in the city for groups and planners looking for weddings, special events, exhibit space, breakouts and more.
"This new meeting space defines the elegance of Sheraton Oklahoma City Downtown, the finest location for events in Oklahoma City," said Michael George, Chief Executive Officer of Crescent Hotels & Resorts. "With the versatile event spaces, professional staff and delicious cuisine, the hotel is a premier choice for all types of events."
The meeting room has been redesigned, offering a fresh and modern look. The room features 29 foot ceilings with hanging decorative chandeliers. The space features state-of the art technology including a built-in 208 foot display screen and video projector. As a part of the renovation all carpet, wall vinyl, lighting, art work, paint, woodwork and chairs have been refreshed.
"We are thrilled to be debuting this new event space to those looking to hold events in Oklahoma City," said David Smith, General Manager. "The modern design of the space offers our clients and customers another great reason to choose Sheraton Oklahoma City Downtown for their next event. The added features and amenities offer thoughtful and purpose-driven design, programming and service for our guests."
The hotel houses 14 other diverse event spaces and a team of expert event specialists to assist with each step of the way. Conveniently connected to the Cox Convention Center and downtown Oklahoma City by an underground concourse and steps from Bricktown Entertainment District and Chesapeake Energy Arena, Sheraton Oklahoma City Downtown is a prime location for meetings and special events.
Create an RFP for your next event on their website or visit their website at SheratonOKC.com to learn more about Sheraton Oklahoma City Downtown.
About Crescent Hotels & Resorts
Crescent Hotels & Resorts is a nationally recognized, top-5 operator of hotels and resorts. Crescent currently operates over 100 hotels and resorts in 36 states in the US and 4 provinces in Canada. Crescent is one of the few elite management companies approved to operate upper-upscale and luxury hotels under the brand families of Marriott, Hilton, Starwood, Hyatt and IHG. Crescent also operates a collection of legendary independent hotels and resorts. Crescent's clients are made up of hotel REITs, private equity firms and major developers. For more information, please visit http://www.chrco.com.
About Nimes Capital
Nimes Capital is the private investment arm of Nazarian Enterprises which has a well-established track record of successful investing, including its role as a lead early-stage investor in Qualcomm, Inc. Led by David Nazarian, the Nimes team has invested in, operated and/or overseen a broad spectrum of investments, with a current focus on multi-family real estate and stable operating companies with strong market positions. In addition to its ownership interest in the Sheraton Downtown Oklahoma City, Nimes also holds majority ownership stakes in the adjacent Century Center and the Haven apartments, both of which have recently undergone substantial renovation. Nimes is headquartered in Los Angeles, California, with an additional real estate investment office in Austin, Texas. For more information, visit http://www.nimescapital.com.
About Sheraton Oklahoma City Downtown
Located next to the Cox Convention Center, across from the Chesapeake Energy Arena, Sheraton Oklahoma City Downtown Hotel is the metro's largest business and convention hotel and the best choice among downtown OKC hotels. Located just two blocks from the legendary nightlife of Bricktown, the downtown OKC hotel puts guests in the center of fantastic things to do in Oklahoma City. Cheer on the OKC Thunder and OKC Energy, visit the Wild West at the National Cowboy & Western Heritage Museum, or see the animals of the world at the Oklahoma City Zoo. For more information visit http://www.sheratonokc.com.
Sheraton Hotels & Resorts
Sheraton Hotels & Resorts makes it easy for our guests to explore, relax and experience the possibilities of travel. As the largest and most global brand of Starwood Hotels & Resorts Worldwide, Inc., Sheraton helps guests make connections at more than 430 hotels in more than 70 countries around the world through signature offerings such as the exclusive Sheraton Club lounge and Paired, our new menu of expertly matched small plates, premium wines and local craft beers. The brand recently launched Sheraton 2020, a 10 point plan designed to make Sheraton the global hotel brand of choice, everywhere. Sheraton is proud to offer the Starwood Preferred Guest® program, the industry's leading loyalty program. To learn more, visit http://www.sheraton.com. Stay connected to Sheraton: @sheratonhotels on Twitter and Instagram and facebook.com/Sheraton.