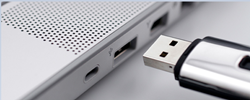 New York, New York (PRWEB) September 01, 2015
Zecurion, a leading developer of data loss prevention solutions, announced the release of Zecurion Zlock Mac, its groundbreaking new version of endpoint DLP developed specifically for Mac OS.
In June 2015, the company successfully completed the beta testing of Zlock Mac, in which more than 100 IT and information security professionals had participated. The beta test done by the developer community enabled Zecurion to incorporate useful feedback, eliminate errors, and improve overall functionality of the solution.
Zlock Mac controls the use of USB devices and blocks leakage of sensitive data from computers that are running Mac OS X Mountain Lion, Maverick and Yosemite.
Just like the Windows version, Zecurion Zlock for Mac allows the security officer to create flexible policies for different types of USB devices, different groups and individual users. Besides giving the option to either allow or restrict the use of the USB device, it also allows partial access in read-only mode. Policy management for both Mac and Windows-based platforms is handled through a single management console, which greatly simplifies the work of security administrators.
"Many of our customers use Apple platform, which leads to an increased risk of losing sensitive corporate information from Mac. Taking into account the wishes of customers and the increasing demand for data protection from leaks for Mac OS, we have developed a special version of Zlock, which we are sure will be a great success with customers," says Roman Vasilyev, Zecurion CTO. He added, "we want to particularly thank our customers and partners who participated in the beta testing of the solution. Through joint efforts, we not only eliminated errors, but also significantly improved the solution."
For more information about Zecurion Zlock Mac, please call +1 866 581-0999.