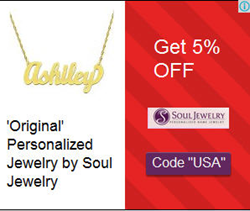 You know, SoulJewelry has 20 years of goldsmith experience in creating one-at-a-time jewelry by hand, as well as selling gold necklaces solely by special order.
Los Angeles, CA (PRWEB) September 23, 2015
Souljewelry announces their 10th year selling personalized name jewelry online on September 25, 2015. The company stands behind their personalized name necklace and guarantees even greater customer satisfaction in the future.
SoulJewelry will make every effort to provide its customers with a trouble-free and pleasant shopping experience when purchasing monogram necklaces and all other items the company offers. With their 10th year of selling online, they continue to strive to offer popular and fashionable jewelry items that will remain stylish for many years to come. Some of the name jewelries that they offer include bamboo earrings, personalized name necklaces and many others. All the jewelry that the company offers is completely handmade in the USA, while other competitors import their items from foreign countries.
The name jewelry, bamboo earrings and even gold name necklaces are all made from high-quality, fashionable and durable materials that truly stand the test of time. They carefully select their designs and offer to their online customers. This is due to the fact that the company greatly believes that the personalization and customization of jewelry is truly a wonderful and exciting process, which is why they always hold themselves to exceptional service standards for all customers who choose them over other retailers.
In the words of the manager, Daniel Henderson, "You know, SoulJewelry has 20 years of goldsmith experience in creating one-at-a-time jewelry by hand, as well as selling gold necklaces solely by special order. SoulJewelry has been selling online for over 10 years now to a worldwide audience, and this new website design is just making the process of shopping and ordering so much easier for the buyers."
SoulJewelry is Positioned at the Top of Leading Providers of Personalized Name Jewelry.
Many people are excited about SoulJewelry's upcoming 10th year of online sales because they are certain that there will be opportunities to acquire some personalized name necklaces, bamboo earrings and all other types of jewelry that could boost their style. This 10th year of online sales for the company can offer a great opportunity to those who want their jewelry personalized and customized to the highest style and design standards possible, and this is the reason why people who really want to obtain the best personalized jewelry always say that SoulJewelry is one of the best.
As one of the top leading providers of personalized name jewelry, the company is performing extremely well when it comes to the products they are offering. They are playing a significant role in the fashionable and stylish appeal of their customers, which makes them a one-of-a-kind company of personalized name jewelry all over the world. Their success and achievement is not their main concern, since they are more focused on the provision of a satisfactory experience to all those who want to join other fashionable and stylish people who are wearing their jewelry.
To those who are interested in learning more about SoulJewelry, feel free to visit them at http://www.SoulJewelry.com or email them at info@souljewelry.com for more details and information.