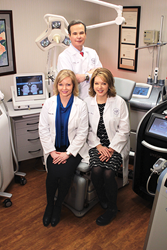 "Past non-invasive treatments may have been helpful, but none had the long-lasting effects of Cellfina," said Dr. Beasley
Baltimore, MD (PRWEB) August 28, 2015
As reported by Medical Daily on August 22, Cellfina, a non-invasive cellulite reduction system from Merz, received FDA clearance for results that last for two years, the longest of any cellulite reduction system currently on the market. This clearance is exciting news for patients who are looking for a long-lasting, effective solution for their cellulite, according to Dr. Robert Weiss, director of the premier MD Laser Skin and Vein Institute, and a principal investigator in the initial clinical trials for Cellfina.
"Cellfina is a great solution for patients who want to smooth their cellulite," said board-certified dermatologist Dr. Robert Weiss. "We have had great results for our patients using the Cellfina system, and are very excited for the news that it has been FDA cleared for two years."
Fibrous bands between skin and muscle form cellulite dimples in body fat, especially on the buttocks and thighs. Cellfina treatment releases bands with a minimally invasive, highly advanced, proprietary and automated technology to provide the longest lasting results of any cellulite treatment. Cellfina minimizes the risks associated with previous traditional, surgical subcision, such as the chance of infection, prolonged recovery or tissue hardening.
"Cellfina is a minimally invasive and quick method of reducing cellulite, with typically mild discomfort," explained Dr. Margaret Weiss of MDLSV. "Patients no longer need to undergo a full surgical procedure to smooth their cellulite dimples, which is a great benefit for many people today who can't spare the time or expense of plastic surgery."
During a Cellfina procedure, a topical numbing cream is applied to the areas to be anesthetized and treated, ensuring that the patient is comfortable during the actual procedure. A typical treatment lasts less than an hour, depending on how many cellulite dimples are being treated. Side effects can include bruising or swelling, which typically disappear on their own within a few days, depending on the individual.
"Cellulite is a big problem for many women," said Dr. Karen Beasley of MDLSV. "Past non-invasive treatments may have been helpful, but none had the long-lasting effects of Cellfina. This system is truly the next level in cellulite treatment."
MDLSV is greater Baltimore's leading medical and aesthetic dermatology practice. With over 45 devices and injectable treatments, its expert board certified dermatologists offer comprehensive dermatologic and laser care, and multiple methods of noninvasive body contouring at their MD Body Sculpting Center.
For additional information and to schedule a consultation, please visit mdlsv.com or call 410-840-7525.