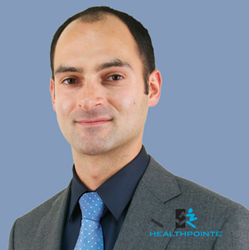 By understanding how medical and psychological factors interact to affect patients, we can help patients achieve the best possible results.
La Mirada, CA (PRWEB) August 26, 2015
Healthpointe is proud to announce that their Director of Psychological Services, Dr. Levon Margolin Ph.D., obtained a Post-Doctoral Masters Degree in Clinical Psychopharmacology on June 21, 2015. Dr. Margolin is currently practicing in Healthpointe's Southern California locations including the Anaheim, Corona, Colton, Ontario, Long Beach, and Los Angeles Healthpointe clinics.
Psychopharmacology is the study of the effects of medication on mood, sensation, thinking, and behavior. A Masters Degree in Clinical Psychopharmacology provides psychologists with medical knowledge in multiple areas including pathophysiology, neurology, and pharmacology.
"This accomplishment gives me the expertise I need in order to work effectively on an integrated treatment team with the medical doctors at Healthpointe," said Dr. Margolin. "By understanding how medical and psychological factors interact to affect patients, we can help patients achieve the best possible results."
The combination of his clinical expertise and advanced academic achievement has led Dr. Margolin to develop a unique skillset as a doctoral level practicing psychologist. Dr. Margolin has become an inspiring role model for recently licensed professional psychologists, and a valued member of Healthpointe's team.
For more information on Dr. Margolin and the psychological services at Healthpointe, call (888) 824-5580 or visit healthpointe.net.
About Dr. Levon Margolin:
Dr. Margolin graduated top of his class with a Ph.D. in Clinical Psychology at Walden University and exhibits a firm passion to assist all patients for the betterment of the community.
As a licensed psychologist, Dr. Levon Margolin specializes in psychological evaluations and treatment, including pre-surgical, neurocognitive, and personal injury psychological evaluations along with workers' compensation and private patient psychological consultations. Additionally, Dr. Margolin is the lead doctor in Healthpointe's Functional Restoration Program, which promotes the enhancement of a patient's recovery time and return to work.
Dr. Margolin is currently on the board of directors' executive committee at the National Alliance of Professional Psychological Providers (NAPPP). NAPPP, an association of professional psychologists with over 8,000 members, is dedicated to improving patient health by promoting quality psychological practice within an effective and caring healthcare system.
About Healthpointe:
Healthpointe is a leading multidisciplinary healthcare organization offering a full range of medical services in practice locations throughout Southern California (Los Angeles county, Orange county, San Bernardino county, and Riverside county). Healthpointe has locations situated in over 10 cities in Southern California including Corona, which is conveniently located near Norco, Home Gardens, Mira Loma, and Pedley. As a highly regarded musculoskeletal group, we have a personal investment in the highest level of service, and we are proud of our record of excellence over the last four decades with private patients, injured workers, urgent care, personal injuries, and professional and non-professional athletes. Leading our organization is a dynamic team of healthcare professionals who continually strive to be at the forefront of medical innovation and healthcare service delivery. For more information, a complete list of services, and Healthpointe locations, visit healthpointe.net.