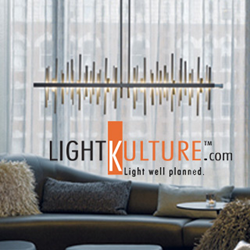 The quality is evident in the craftsmanship, with a casual elegant style that is updated and modern, but not hi-tech looking.
New York, NY (PRWEB) August 27, 2015
LightKulture.com is pleased to offer the beauty and charm of hand forged iron LED lighting from Hubbardton Forge. "Manufacturing in the United States is a tradition that is still alive and well in Castleton, Vermont as evident by the traditional methods employed by Hubbardton Forge", noted Susan Inderbinen President of LightKulture.com. At Hubbardton Forge, innovation is at the forefront. The company culture is to explore new possibilities, reaching beyond what is comfortable, to deliver something extra. By pushing the boundaries of hand forged iron, Hubbardton Forge continues the process of evolution. The collaboration of talented designers, engineers and craftspeople pursuing new design opportunities is what this company is all about. It takes the entire company's efforts, over 200 employees in Vermont, from design through engineering, tooling and production, to deliver new designs which are proudly made in the USA. Designs are inspired by the organic nature of iron, the warmth and character of the finished metal is the preferred design intent of the products. The best-in-class manufacturing process ensures quality lighting products that have a limited lifetime warranty.
Since 2013, Hubbardton Forge has introduced 18 new products families, focusing on LED wall sconces, LED pendants, LED semi flush ceiling fixtures, LED task lamps, LED bathroom vanity lighting, and LED outdoor lighting. Modern American design are evident in these new families such as Quill, Flux, Brindille and Axis.The small and flexible nature of working with LED are the best attributes in terms of freedom of design. The dedicated LED fixtures being manufactured today could not be done using traditional light sources. Since Hubbardton Forge uses top quality components and manufacturing techniques from right here in the United States, they can be more flexible to do more with dimmable LED fixtures. These products are designed in a way so the boards and modules can be replaced or retrofitted later in life if required. Sometimes sacrifices need to be made in the design to accommodate the large electrical components that are bigger than non-dimmable LED electronics, such as deeper canopies and back plates. Since the early 1800, blacksmiths labored over flames from red-hot steel, creating works of art using hammers and anvils. While technology has changed in almost 200 years, the basic element of hand craftsmanship has remained the same.
For more information go to
Hubbardton Forge - http://www.lightkulture.com/brands/Hubbardton-Forge.html
Lighting by Hubbardton Forge Blends Old Time Tradition with LED Technology, Now Available at LightKulture.com
"My staff and I work with a variety of clients with a wide range of needs, based on design influences, specifics tasks and budgets. With today's LED technological advances, the energy savings and quality of LED can now be incorporated in a wide variety of fixture designs. I've noticed many clients interested to upgrade their lighting to LED, a number of which are interested in softer looks, with more transitional designs elements. This is why we have been so successful with Hubbartdon Forge. The quality is evident in the craftsmanship, with a casual elegant style that is updated and modern, but not hi-tech looking. One of my favorite new Hubbardton Forge introductions is the Cityscape chandelier. Cityscape is a 25.5" long linear LED fixture delivering 28 watts, 90 CRI at 2700 Kelvin. This adjustable height fixture can installed on a sloped ceiling up to 45 degrees. Cityscape is available in 8 finishes: Mahogany, Bronze, Dark Smoke, Burnished Steel, Black, Natural Iron, Vintage Platinum and Soft Gold. Earlier this summer, I had the chance to meet with factory representatives who showed a mock-up of this fixture which had a sample of every finish offered all assembled at once. I liked it so much, I convinced them to add it to the line. We are excited to be able to offer this version for Fall" noted Susan.
About LightKulture.com
At LightKulture.com, our mission is to offer the finest energy efficient contemporary lighting and light fixtures from around the world. We have assembled an exciting collection of the industry's most innovative decorative and architectural lighting.We are proud to offer lighting solutions for both your home and work-life environments. Simplicity is design is complicated, function makes it last. Be inspired by our range of essential designs from well respected American and European manufacturers. In today's world, energy efficient lighting is as important as eco-friendly or green lighting fixtures, such as LED or CFL lighting. We offer the very best energy efficient lighting and light fixtures, both high value LED lighting fixtures and CFL lighting fixtures in modern and contemporary styles that provide quality, innovation and authenticity.
LightKulture
http://www.lightkulture.com/
Email. sales(at)lightkulture(dot)com
Tel. 941-330-0422