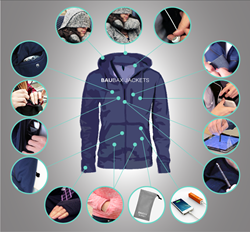 We are forecasting a very strong finish in the final days of our campaign with people around the world wanting to buy our jackets at a discount before our Kickstarter concludes on September 3rd."
Chicago, IL (PRWEB) August 26, 2015
BauBax, the world's best travel jacket with 15 distinctive features for everything a traveler needs, passed the PonoMusic Player (to move into 7th) yesterday, and today surpassed Shenmue-3, a wildly popular video game, to take possession of 6th place on Kickstarter's most funded campaigns of all-time list with over $6.34 million raised.
BauBax is quickly moving higher on the list and continuing to gain momentum after entering the Top-10 most funded Kickstarter campaigns of all-time just last week. To crack the Top-10 BauBax passed Reading Rainbow, which raised $5.4M in 2014.
"To join the Top-10 list was a very special achievement and now to be the 6th highest funded campaign ever shows there is no stopping the popularity and momentum of our product," said Yoganshi Shah, founder and Chief Design Officer of BauBax. "We'd like to thank all of our backers once again for their tremendous support."
BauBax now has its sights set on the Top-5 with increasing momentum culminating in a big final week of its record breaking Kickstarter campaign.
"We are forecasting a very strong finish in the final days of our campaign with people around the world wanting to buy our jackets at a discount before our Kickstarter concludes on September 3rd," said Hiral Sanghavi, co-founder and CEO of BauBax.
BauBax has taken off in popularity around with world thanks to its 15 unique features that include: a built-in and instantly inflatable neck pillow, eye mask, tech pockets of all sizes, a drink pocket, gloves, a zipper with a pen and stylus and more.
With a built-in neck pillow and eye mask, BauBax jackets are ideal for travelers who like to catch up on sleep during long flights. Passports, wallets, tablets, smartphones, earphones, sunglasses, portable charger, pocket blanket and water bottles are just some of the many items that can be carried in a BauBax jacket.
BauBax Jackets are available until September 3, 2015 on Kickstarter in multiple colors and comfortable styles (sweatshirt/hoodie, windbreaker, bomber jacket and wrinkle free blazer with removable hood).
For more information visit BauBax on Kickstarter.
About BauBax
BauBax LLC is a Chicago based startup focused on developing creative lifestyle products. Co-founded by Hiral Sanghavi, who is a serial entrepreneur and currently an MBA student at the prestigious Kellogg School of Management – Northwestern University, BauBax is solving problems faced by travelers around the world with its travel jackets. Yoganshi Shah, founder and Chief Design Officer at BauBax, is an expert User Experience Designer based in Silicon Valley. Yoganshi is a professional ergonomic design expert with a knack for making products, processes, and interfaces simpler and visually appealing.