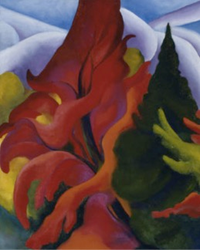 Georgia O'Keeffe is now regarded as a major figure of American modernism. It will be a once in a generation opportunity for audiences in Europe to view her work in such depth. -Cody Hartley, Director of Curatorial Affairs, Georgia O'Keeffe Museum
Santa Fe, New Mexican (PRWEB) August 26, 2015
The Georgia O'Keeffe Museum is proud to announce its participation in the 2016 Tate Modern program, which features major exhibitions devoted to the greatest artists of the twentieth century: Georgia O'Keeffe and Robert Rauschenberg at Tate Modern, Francis Bacon at Tate Liverpool, and Paul Nash at Tate Britain.
The exhibition will draw from public and private collections throughout the United States, with the single largest group of works coming from the collection of the Georgia O'Keeffe Museum in Santa Fe, New Mexico.
The Tate Modern exhibition opens in the summer of 2016 featuring Georgia O'Keeffe considered one of the founding figures of American modernism. The exhibition will be the first large-scale, monographic show of her work in the U.K. in more than 20 years. This ambitious and wide-ranging overview will reassess O'Keeffe's place in the canon of modern art, situating her within artistic circles of her own generation and indicating her influence on artists of subsequent generations.
Georgia O'Keeffe's career spanned more than seven decades and the exhibition will encompass the six decades when she was most productive, from the 1910s to the 1960s.
"Georgia O'Keeffe is now regarded as a major figure of American modernism," said Cody Hartley, Director of Curatorial Affairs at the Georgia O'Keeffe Museum, "and yet there is much that remains under-examined in relation to her work. The Tate exhibition will return to the work, examining it and the woman who created it, aiming to dispel the clichés that persist about her and her paintings. It will be a once in a generation opportunity for audiences in Europe to view her work in such depth."
A key aspect of the exhibition will examine O'Keeffe's professional and personal relationship with Alfred Stieglitz; photographer, modern art promoter and the artist's husband. While Stieglitz afforded O'Keeffe access to the most current developments in avant-garde art, she employed these influences and opportunities to fulfill her own objectives. O'Keeffe's keen intellect, as well as her forceful and resolute character, created a fruitful relationship that was, though not always easy, one of reciprocal influence and exchange.
The popular notion that O'Keeffe was a simple painter of flowers is a misconception she faced throughout her lifetime. The exhibition will reconsider these remarkable flower works in the context of their overall production as complex images, relating them to her engagement with abstraction and issues of form and composition, controversies over the gendered interpretation of her artwork, and to her spiritual engagement with the landscape. Charting the progression of her practice from her early abstract experiments to her later work, this exhibition will re-examine her entire career, her development as an artist, her trajectory west, and the profound influence and legacy of her work.
Georgia O'Keeffe is curated by Tanya Barson, Curator, Tate Modern, with Hannah Johnston, Assistant Curator, Tate Modern. The exhibition is accompanied by a catalogue from Tate Publishing and will tour throughout 2017.
Tate Modern
Georgia O'Keeffe
6 July – 30 October 2016
The exhibition is organized by Tate Modern in collaboration with Bank Austria Kunstforum, Vienna and Museum Folkwang, Essen.
Current Georgia O'Keeffe Museum Exhibitions:
"Line, Color, Composition" is on display from May 8 – September 13, 2015.
The Museum is currently also exhibiting "New Photography Acquisitions" through September 13, 2015.
For media inquiries, please contact:
Suzanne O'Leary
JLH Media
505.490.9116
Suzanne(at)jlhmedia(dot)com
###
About the Georgia O'Keeffe Museum: To inspire all current and future generations, the Georgia O'Keeffe Museum preserves, presents and advances the artistic legacy of Georgia O'Keeffe and modernism through innovative public engagement, education, and research. Opened in Santa Fe, New Mexico in 1997, the Museum counts O'Keeffe's two New Mexico homes as part of its extended collection. The Museum's collections, exhibitions, research center, publications and educational programs contribute to scholarly discourse and serve a diverse audience. For more information, please visit okeeffemuseum.org