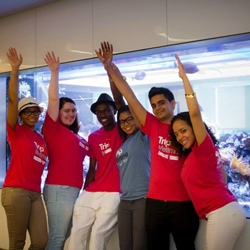 "This mentorship program will allow our alumni to think of creative ideas to impact their communities and receive guidance to make this vision a reality." - Stan Rosenberg, Trip of a Lifetime Founder
New York, New York (PRWEB) August 26, 2015
Want an opportunity to shape young minds and offer your experience to an aspiring change maker? Trip of a Lifetime is looking for eager mentors for the upcoming school year to guide our students as they bring change to their community!
Trip of a Lifetime, works to send low-income 8th- to 12th-grade students in the Tri-State Area on a "Trip of a Lifetime" to broaden their world views and inspire exciting futures. As part of this program, participants are encouraged to do some social good in their community when they return from the trip. The organization is looking for entrepreneurs, leaders, and change-makers who are interested in being a mentor to one of these fantastic students in the coming months! This program will be as collaborative as possible among mentors, and will have networking sessions for all mentors to get to know each other.
Mentor Requirements:
Be located in NYC area from September 2015 - May 2016
Have an interest in travel, education, and social impact
Willing to meet with mentor monthly and attend quarterly mentor events
Time Commitment: 5 hours per month
This is a great opportunity to share a vast knowledge of social good and start-up culture with eager young minds! Beyond the fulfillment of mentoring a student, upon completion of program all mentors will receive a $250 donation to the charity, cause, or venture of their choice!
Know anyone that would be a great fit? If so, have them fill out the application by August 30th.