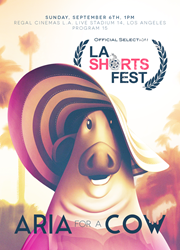 Seeing Aria spring to life in the hands of such enthusiastic young talents is an absolute gift.
Los Angeles, California (PRWEB) August 27, 2015
When a callow young farmer shows himself to be completely uninterested in the sensitive art of milking cows, a bovine diva named Aria and her singing/dancing back up bulls belt out a tune demanding respect for more than just dairy products. Aria and her friends take us through a fast-paced musical journey, which ends with our young farmer learning to treat all life with love and respect.
What if you found buried treasure in the form of a never-before-heard song by the venerated duo of Howard Ashman and Alan Menken? What if you had the vision to create a world-class animated short to bring this song about a beautiful cow to life but no budget or crew? That's exactly where veteran Disney animator Dan Lund found himself in 2012. His passion to see the short realized brought him together with producers and artists at the top of the animation industry as well as students still studying their craft in schools around the world. So was born the global production barn of Gotta Barn Productions which produced the finished film in record time.
Sarah Ashman Gillespie, the late Howard Ashman's sister, offered the song to Lund so he could bring this long-forgotten tune to center stage. Lund and producer Connie Nartonis Thompson ("Frankenweenie", "Despicable Me 2") launched Gotta Barn Productions, designed to bring together students and artists from across the globe to get their shot at feeling the thrill of "putting on a show". Helping to lead the creative effort were art director Amos Sussigan, production manager Siddhartha Maganti, lead vocalist Kate Pazakis (the voice of Aria), and musical director John deHaas.
"I believe Howard would be thrilled to be contributing to the development of talented young people," adds Sarah Gillespie. "He loved animation, and he specifically loved seeing his words come to life through animation. Seeing Aria spring to life in the hands of such enthusiastic young talents is an absolute gift."
"Aria for a Cow" is making her Los Angeles premiere at the LA Shorts Fest, Program 15 on Sunday, September 6th, 1 pm, at LA Live Downtown. This year the animated short has been a crowd pleaser as an official selection at the San Francisco International Film Festival in April, as well as at the Palm Springs International Short Fest in June and Anima Mundi in Sāo Paulo, Brazil in July. In addition to the LA Shorts Fest, upcoming film festival appearances include the Portland Film Festival on September 2nd, Encounters Film Festival in Bristol, England, on September 17th and more still unannounced! Aria has also enjoyed private screenings at Disney, Heritage, and ILM. For more information about LA Shorts Fest, go to http://www.lashortsfest.com.
ARIA FOR A COW
Gotta Barn Productions Producers: Connie Nartonis Thompson, Dan Lund, Amos Sussigan
Running time: 7 minutes
Press kit available at
Website: http://www.ariaforacow.com
Twitter: @ariaforacow
Facebook: http://www.facebook.com/ariaforacow
Instagram: http://www.instagram.com/ariaforacow
Jennifer Coyne
Publicist
jenpdx032(AT)gmail.com
Mare Aehlich
Social Media Contact
ariaforacowofficial(AT)gmail.com
end