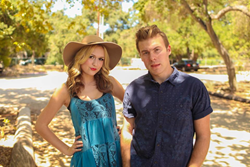 The song is about feelings of being in love, which is a great feeling any time."
Los Angeles, CA (PRWEB) August 26, 2015
Late August signals the end of summer, or does it? By the calendar, summer is coming to an end, but Mary Desmond and Kyle Reynolds are having none of it, declaring that summer continue with the release of their new single "Walking In Summer" which can be seen and heard on You Tube (https://youtu.be/sXsnziNvxF0). There is reason to side with the duo and embrace their declaration.
Why Summer Remains
Desmond and Reynolds may have a point. High temperatures across the country persist. Trees retain their leaves. The sun stays up past 8:00 p.m. and later in some locations. Bears are reported to be wide-awake, not hibernating or even feeling sleepy. "While school is back in session and football season is starting, Kyle and I decided that everyone acknowledge what is obvious, Desmond said. "It's still summer."
Produced by Austin Heller, the release of the single features Desmond and Reynolds who are both accomplished songwriters and performers. Both note in the song that there is more to summer than what the calendar dictates. "Summer is as much a frame of mind as it is a season," Desmond said. "The song is about feelings of being in love, which is a great feeling any time."
Joining Desmond and Reynolds on the recording are:
Drums - Stephen Puckett
Bass - Ted Gajda
Guitar - Matt Carey
Backup vocals: Laura Adkins, Taylor Matthews, Austin Heller, Tammy Heller, Kyle Reynolds, and Mary Desmond
Produced by Austin Heller
Mary Desmond
Desmond is no stranger to performing and recording. Her EP, "Your Songs Vol.1" was released on to iTunes in 2013 and was followed by 10 more songs for iTunes in late October, 2014. She is also an accomplished musician and offers free guitar lessons on her web site's "school of pop" where instructions on how to play the guitar chords for hits like "We Are Never Getting Back Together" by Taylor Swift, are available in video form. "If you own a guitar, you can learn to play 'we are never getting back together' in about 10 minutes," she said. "It's fun and also a great way to share and connect with my audience."
Kyle Reynolds
Kyle Reynolds began playing music in high school. It was his early struggles with his parents' divorce that led to a search for meaning in his life, which he discovered through music. Using YouTube videos as his guide, Reynolds taught himself to play the piano and write songs. He eventually added guitar and the harmonica to his repertoire of instruments. His songwriting has been inspired by summer adventures, love, loss, and everything in between.
To learn more contact: Harold Nicoll, APR 979 292 8026 or haroldnicoll(at)gmail(dot)com.