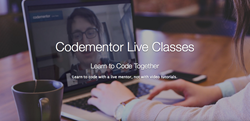 Unlike existing MOOCs where students learn via pre-recorded videos, Codementor Live Classes enable students to learn to code with a live mentor, not with video tutorials.
Palo Alto, CA (PRWEB) August 27, 2015
Codementor.io, a leading marketplace for on-demand live help from expert developers, announced today that they are launching a new service, Codementor Live Classes. The Techstars-backed company currently has over 3000 mentors available for live help and mentorships. Codementor is now launching Live Classes in 9 categories after much demand for live, hands-on coding classes with a mentor.
Since their official launch in 2014, Codementor has helped many aspiring programmers learn how to code, build their own apps, and become a developer.
"I have no doubt that I would not be the position of having my dream job right at this moment if it had not been for my Codementor sessions,." said Erica Porter, a non-CS major who jumpstarted her career as a Web Developer with Codementor.
As demands for programming classes with a live mentor increased, Codementor noticed a gap in the online education industry. Most online courses use pre-recorded videos, and these recordings often lack the student-teacher interaction found in a live classroom setting.
"Unlike existing MOOCs where students learn via pre-recorded videos, Codementor Live Classes enable students to learn how to code with a live instructor in a small group setting," said Weiting Liu, Founder & CEO of Codementor. "With Live Classes, we're expanding our product line beyond more than just 1:1 mentoring. Students can now learn new technologies from a live code mentor at a much more affordable price range, starting from $99 for an 8-hour class series."
Codementor Live Classes are now available in some of the most popular programming languages today. In the Live Classes, students will receive live instruction and hands-on coding exercises. Students will also have the opportunity to ask questions and participate in discussions for more enhanced and effective learning. More information about Codementor's Live Classes and available curriculums: https://www.codementor.io/classes
With the introduction of Live Classes, Codementor will be partnering with Koding, a cloud-based development environment. Koding will be used to help facilitate the hands-on coding exercises included with each class for students to use and demonstrate what they have learned.
About Codementor
Codementor is the leading live mentorship marketplace for software developers. Codementor's network of 3000+ expert developers provide on-demand help and long-term mentorship for developers, ranging from individual beginners to experienced engineers at Fortune 500 companies. Learn more about Codementor at https://www.codementor.io
Media Inquiries
Email: support@codementor.io