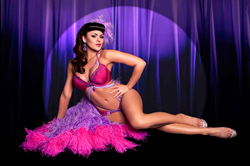 Michigan has fallen in love with burlesque, and the feeling is mutual"
Detroit, Michigan (PRWEB) August 26, 2015
A Burlesque Hall of Fame "Queen of Burlesque," Roxi D'Lite, 2013 "King of Burlesque" Russell Bruner, award-winning performance artists, a festival marketplace and workshops on the art and style of burlesque will be featured at the third annual Michigan Burlesque Festival, September 18-19 at Detroit's Hastings Street Ballroom. The festival will also feature nationally-recognized acrobats, fire performers, hula-hoopers, clowns and burlesque performers, and the widest variety of burlesque performance styles at any Michigan event. Advanced tickets are $20 for general admission and $30 for VIP seating in the 1st and 2nd row. Tickets are available online at http://www.brownpapertickets.com/event/2061846 via Brown Paper Tickets.
"Michigan has fallen in love with burlesque, and the feeling is mutual" said Valencia Starling, co-owner of Fancy Pants Arts & Entertainment, and co-producer of the festival. "With sold-out shows and classes in 2013-14 and continued support from our community and sponsors, the Michigan Burlesque Festival has been able to expand and attract this year's exciting all-star lineup."
Besides this year's headliners, other burlesque performers scheduled to perform include "Detroit's hardest working showgirl" and founder of the Detroit Dizzy Dames burlesque troupe, Lushes LaMoan, Candy Bottom from Colorado's Peaks & Pasties burlesque troupe, Florence of Alabia from Grand Rapids' Super Happy Funtime Burlesque and winner of the 2014 Howard Award for "Most Beautiful" at the Great Burlesque Exposition in Boston, Seattle's Whisper De Corvo. The emcee for the weekend will be "the James Brown of the Twin Cities' Burlesque Scene," Foxy Tann.
In addition to award-winning performances, festival attendees can enjoy the Tangent Gallery, a marketplace filled with artists and merchants displaying and selling their crafts, apparel, treats and more. Classes on the classic arts and styles of burlesque, hosted by some of the festival's headliners, will be offered on Saturday afternoon. Classes are $10 each and include "Character Development" with Lushes LaMoan, "Classic Jazz Dance" with Russell Bruner, and "Fabulous is a State of Mind" with Foxy Tann.
The Michigan Burlesque Festival is produced by Mabel Syrup and Valencia Starling of Fancy Pants Arts & Entertainment. For more information, go to http://www.michiganburlesquefest.com or http://www.facebook.com/MichiganBurlesqueFestival.
###
EDITOR'S NOTE: For high-resolution photos of the Michigan Burlesque Festival, interview opportunities with the performers, or if you'd like a costumed performer to teach one of the burlesque workshops in-studio, contact Valencia Starling at: michiganburlesquefestival(at)gmail(dot)com, or at (734) 926-9629.
More About the Headliners:
Roxi D'Lite (http://www.roxidlite.com): Unanimously credited as Canada's Burlesque Queen, Roxi D'Lite is one of the world's premier burlesque performers and the 2010 Queen of Burlesque at the Burlesque Hall of Fame in Las Vegas, as well as being named "Showgirl Champion" at the 2015 Exotic Dancer Invitational, the winner of the 2015 "Best Exotic Performance" and "Best Burlesque Performance" at the 2015 Grand Prix of Exotic Dance, after her reign as the 2014 World Champion of Exotic Dance. Roxi was one of the youngest performers to ever be crowned Miss Exotic World by the Burlesque Hall of Fame in Las Vegas. For five consecutive years Roxi has been voted by her peers one of the "Top 10 Burlesque Performers" in the world. Classic striptease with a modern twist is the hallmark of Roxi's performance style; a trailblazer who seamlessly blends elaborate props and costumes with circus performances. Roxi starred in the award-winning feature film The Burlesque Assassins and even took the world of comic books by storm where she appeared as a guest-villain in The Goon, an Eisner Award-winning comic series published by Dark Horse. Throughout the world Roxi's reputation has been indelibly etched in the annals of time. The Detroit Free Press refers to Roxi as, "the reigning burlesque diva," while in Vancouver, The Province called her "a bubbly, ravishing presence" and in Halifax, the Chronicle-Herald referred to her simply as the "Notorious Roxi".
Russell Bruner (http://www.facebook.com/russellbruner): "Handsome hero of the swing scene," Russell Bruner brings thrilling acrobatics and dance expertise to the hottest halls in the nation. Both in solo routines and teamed up with his main dance partner Sugar Kane; acrobats Paulina Munoz, Jessica Hoage, and Brandy Guthery; bewitching songstress Pink Lady and Portland-based Wanderlust Circus' own Noah Mickens, Russell has devised a diverse repertoire of acts that stand without equal in variete. In 2012, he was crowned "King of Boylesque" and "Mr. Exotic World" at the Burlesque Hall of Fame in Las Vegas.
Brown Paper Tickets (http://www.BrownPaperTickets.com): Brown Paper Tickets is a socially conscious global leader in online ticketing and event registration services, helping people in 68 countries to plan, promote and sell out events. As a social innovator, the company donates 5 percent to charities with every ticket sold, supports a team of full-time community advocates, called "Doers," and still charges a ticketing fee that is lower than competitors. How do we do it? The dirty little secret in the ticketing industry is that it doesn't cost that much to ticket events. To learn more about the world's only Not-Just-For-Profit ticketing company, visit http://community.brownpapertickets.com/press.