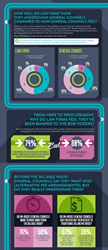 (PRWEB UK) 27 August 2015
The Corporate Counsel Exchange teamed up with Briefing Magazine to do some ground-breaking research into what clients want, what law firms think they value, and whether the two match up.
125 in-house General Counsels took part in the survey, 67% from companies with more than £1.1 Billion in revenue a year and more than 1000 employees. Their answers were matched up with over 86 management leaders from the UK's top 120 law firms.
The preview of the results have been compiled into an infographic to give you insight into the full results which will be released in autumn: What Do Clients Want? Analysing the General Counsel Law Firm Relationship
The preview also takes into account the views of General Counsels who took part in the survey and what they thought of the results. Within the section regarding AFAs it was revealed that 76% of law firms believe in-house General Counsels want to move away from the billable hour, whereas only 58% of General Counsels say they do. Furthermore 57% of law firms say General Counsels ask for AFAs but then revert back to traditional methods, but only 28% of General Counsels thought this to be the case.
One General Counsel commented on these results saying:
"Often the problem is that you ask for a fixed fee but then most of the law firms try to build in a couple of escape clauses."
Download your copy of the results here to see how the rest of the in-house General Counsels answers match up and where they differ to law firms.