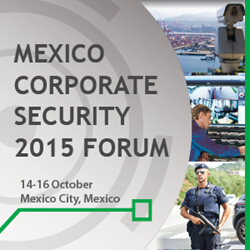 It's an IRN Summit!
London (PRWEB UK) 26 August 2015
In recent years, the energy sector has become a key target, falling victim to 70% of the attacks, followed by the construction, finance and insurance industries, which are also suffering the consequences of cybercrime.
Malware, hacking, and phishing are amongst the most commonly reported cyberattacks. Phishing (theft of private or financial identity) is particularly affecting the banking sector and it is expected to increase by 25% this year. Consequently, Mexico ranks the second highest in the cost of cybercrime in the LATAM region, with an economic loss of 3 million dollars, an amount which is expected to rise in the near future.
The Mexico Corporate Security Forum 2015 will address cyber security as a priority issue for companies currently operating or wishing to develop activities in the country. Senior security experts from key organisations such as Pemex and Banco de México will share advice on how to combat and prevent cybercrimes.
The Forum will also address new regulations for the security sector, threats from drug cartels, operation technology and corporate IT, criminal activity within the workplace, high risk areas for employees, security budget justification, effective communication management, narco-bribery, internal misconduct, and latest location technologies, amongst others.
The Forum is sponsored by AFIMAC, Grupo IPS de México, Raytheon Websense and Cerberus Consulting. The meeting is also supported by the Supply Chain Security Council, the Mexican Internet Association, ALAPSI (Latin American Association of Information Security Professionals) and the Industrial Cybersecurity Center (CCI).
More information about this forum is available on the website: http://www.mexicosecurityforum.com.