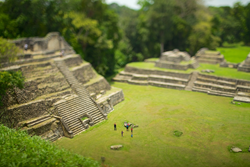 Having so many rich, colourful and distinctive cultures harmoniously living side-by-side in such a tiny country is something we're proud of
San Ignacio, Belize (PRWEB) August 28, 2015
The Lodge at Chaa Creek has opened bookings for this year's 2015 Winter Solstice multicultural vacation package and, considering the popularity of previous winter solstice celebrations in Belize, travellers are being urged to book now to avoid disappointment, marketing administrator Roberto Harrison said.
The "Belizean Winter Solstice Cultural Adventure" is an all-inclusive Belize vacation package offered from December 19 to 23, 2015 that includes rainforest accommodation, all meals, activities, ground transfers and access to a range of amenities within Chaa Creek's 365-acre private nature reserve.
The winter solstice, which this year falls on December 22, 2015, has been observed since well before the birth of Christ in Belize, when it was precisely predicted and celebrated with great fanfare and ritual by Belize's ancient Maya civilisation, Mr Harrison explained.
"Situated as we are in the heartland of the ancient Maya, and having sponsored Maya research for decades, Chaa Creek has always observed the winter solstice, but when global attention turned towards us so dramatically in 2012, it really took off," he said.
"Social media, television and films such as the American blockbuster, "2012", obviously captured the public's imagination, and then you had all these doomsday prophesies that the culmination of the ancient Maya long count calendar meant that the Maya predicted the world was going to end on December 21, 2012.
"Obviously, it didn't, and we're all still here, but we had one heck of a party throughout Belize," he added.
Mr Harrison said that Chaa Creek's 2012 winter solstice celebration was Belize's most elaborate and had been sold out well in advance.
Since then, he said, the winter solstice vacation package has become one of the eco resort's most popular holidays, and has been expanded to include Belize's other ethnic and cultural groups.
"Belize has always been a multicultural melting pot, beginning with the Maya, whose many temples and ancient cities can still be found throughout Belize. Then we had the Spanish conquistadors, the English and European settlers, African slaves, pirates and buccaneers and other adventurers and settlers.
"In the early 1800s the Garifuna, a very unique people descended from slaves who survived a shipwreck off St Vincent's Island and mixed with the local Arawak population to develop their own distinctive language and traditions, were exiled by the British to the coasts of Belize, Honduras and Nicaragua," he said.
The Garifuna survived to become an essential part of Belize's multicultural society, Mr Harrison said, adding that Lebanese, East Indians, Asians, North Americans and Europeans, including a large Mennonite farming community, have also settled in Belize.
"Having so many rich, colourful and distinctive cultures harmoniously living side-by-side in such a tiny country is something we're proud of, and thought should be celebrated as well," he said.
The Chaa Creek "Belizean Winter Solstice Cultural Adventure" vacation package introduces guests to Belize's rich Maya heritage as well as Mestizo, Creole and Garifuna art, music and food. Activities and tours include exploration of ancient Maya archaeological sites such as the nearby pyramid of Xunantunich and the sprawling cities of Caracol and Tikal in Guatemala.
"There will be plenty of art and music to enjoy, and downstream canoe excursions for demonstrations of traditional chocolate manufacture and horseback trips to an ancient temple as well as talks by prominent traditional healers, archaeologists and other speakers are just some of the activities to be offered," Mr Harrison said.
"In addition to the cultural focus, there will be all the things we offer in all Chaa Creek all-inclusive Belize vacation packages, which include ground transfers, eco-luxe accommodation, all meals, visits to the Belize Zoo and onsite Belize Natural History Museum, butterfly farm, Maya organic farm and medical plant trail, enjoying amenities such as an infinity pool and the internationally recognised Hilltop Spa, and unlimited activities that include canoeing, guided nature and birding walks, horseback or mountain biking along the trail system running though our 365 acre private nature reserve and more," he said.
Mr Harrison added that the four nights package is only offered from December 19 to the 23rd, and cautioned that as space is limited, interested parties should contact Chaa Creek or their travel agents to learn more and arrange bookings.
"Whether guests plan to return home for Christmas and New Years, or stay in Belize, they can be assured of enjoying one of the most memorable and rewarding holidays of a lifetime. And with absolutely everything included under one affordable set price, it makes planning the rest of the holidays that much easier," he said.
The Lodge at Chaa Creek is a multi award winning eco resort set within a 365-acre private nature reserve along the banks of the Macal River in Belize.
ENDS