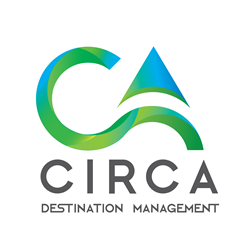 "Clients come to Circa and The RK Group from all over the country and it's important that the brand truly represent and showcase what we do best." CEO, Greg Kowalski
San Antonio Texas (PRWEB) August 27, 2015
Circa Texas and Circa Arizona are now Circa DMC, reflecting the organizations' focus and expanded emphasis on total destination management services provided to clients nationwide. Circa DMC will continue to market a spectrum of capabilities to the hospitality industry including tours, recreation, event production, transportation, team building, and convention services customized to each client's needs.
In conjunction with the new branding effort, Circa DMC will launch its new website and collateral as well as other support materials designed by The RK Group's in-house team of designers and web architects. The RK Group is the parent company of Circa DMC as well as other wholly owned companies that include Rosemary's Catering, Illusions, Flair Floral, Illusions Rentals and Designs, and RK Design Studio.
President and CEO, The RK Group, Greg Kowalski, states, "Looking at the nature of our industry and the need to continue offering the most comprehensive destination management services available, we elected to spotlight our expanded activities with a name that better reflects our scope of business. Clients come to Circa and The RK Group from all over the country and it's important that the brand truly represent and showcase what we do best." Kowalski explains too that while Circa DMC will maintain its office locations in San Antonio, Texas and Phoenix, Arizona, the new brand will also look to national expansion opportunities in the near future for the convenience of current and future clients.
He adds, "The heart of our efforts has always been about the relationships we have with our customers as well as with our partners in every locale, such as suppliers as well as venues. We are especially looking forward to having a larger presence in the destination management industry by extending our vendor and venue relationships, and detailing these plans and activities in Las Vegas at the upcoming IMEX America 2015 conference this October."
From the preliminary proposal concepts, Circa DMC collaborates with clients and brings together the organization's total creative staff, vendors and designers to plan unique events relevant to the size of any group as well as the established budget by identifying objectives for the event, themes, demographics, and travel experiences. Unique to their service offerings, Circa DMC also has the full range of capabilities available through the efforts of The RK Group of companies for total event implementation that includes every aspect from equipment and rentals to floral and décor styling as well as all catering services.
IMEX America attendees can find Circa DMC at Booth 808; IMEX America will be held October 13-15, 2015, Sands Expo and Convention Center, Las Vegas, Nevada. For more information about Circa DMC or to arrange now for a personalized review of future conference needs, contact a representative at (210) 224-0926 or (480) 949-9440.
###
About Circa DMC (circadmc.com): Circa DMC is one of The RK Group of companies, a leader in the hospitality and culinary industry, specializing in destination management activities for the hospitality and convention industry since 1990. Total destination management capabilities founded on relationship-building enterprise and market insight include comprehensive services from initial plan development, logistics and transportation to tours, themed events, meetings, dinners or intimate receptions. Circa DMC offices are located at 1220 E. Commerce, San Antonio, Texas 78205 (210) 224-2680 and 10621 S. 51st Street, Suite 105, Phoenix, Arizona 85044 (480) 949-9440.
About The RK Group (therkgroup.com): The RK Group is an industry-leading hospitality and culinary service management company operating the nation's most distinguished event centers, museums, restaurants, hotels and convention centers. Their breadth of services includes a single, cost-efficient solution for all catering, event production, design, and management. The RK Group is privately held and diversified through their wholly owned signature companies: Rosemary's Catering, Illusions Rentals and Design, RKD Studio, Circa Destination Management Company, Flair Floral, and restaurants, Radio Milano, Milano Bar, Capitol Grill, and The Story of Texas Cafe.